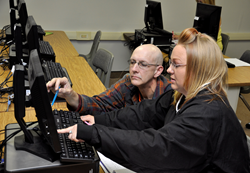 "This funding will allow the college the opportunity to continue to be an economic engine for our region," said ACM's president, Dr. Cynthia Bambara. "It will greatly enhance our capacity to address the needs of our students ...."
Cumberland, Md. (PRWEB) October 16, 2014
Allegany College of Maryland has partnered with 13 other Maryland community colleges to offer training and education that will bolster Maryland's standing as a national center of cybersecurity.
ACM is sharing in a nearly $15 million federal grant that enables the colleges to establish Cyber Technology Pathways Across Maryland, a workforce development effort that will help Maryland employers fill job openings in the growing cybersecurity industry.
The U.S. Labor Department's $803,889 to ACM will allow the college to offer training and education that readies local workers for jobs in cybersecurity.
CPAM colleges will partner with employers and other organizations to prepare participants for such careers as information security analysts, network support specialists and website developers.
ACM's efforts in the consortium dovetail with the Western Maryland IT Center of Excellence that it is partnering with key area information technology stakeholders in a Strategic Industry Partnership.
This effort, made possible through support from EARN Maryland, a skills-training and economic-development initiative of the state's Department of Labor, will prepare workers for a growing number of area jobs foreseen in IT.
Creation of CPAM was spearheaded by Montgomery College, which sought $14,957,899 in support of job-driven training programs through the Labor Department's Employment and Training Administration.
Montgomery, which received $5,371,743 of the total, will lead the collaborative focus on training for cybersecurity as well as IT and the professional, scientific, technical and education services industries.
The Maryland grant was among $450 million in job training grants to nearly 270 community colleges nationwide by the federal agency. The funding is part of the Trade Adjustment Assistance Community College and Career Training competitive grant program, which is co-administered by the Labor and Education departments.
The winners were announced by Vice President Joseph Biden, Labor Secretary Thomas Perez and Education Secretary Arne Duncan at a ceremony attended by Dr. DeRionne Pollard, Montgomery's president.
"Together with these funds and our education partners, Montgomery College and Maryland's community colleges can enhance our efforts to attack the skills gap, connect more of our residents to good jobs and fuel our economy with workers with 21st century skills," Pollard said.
ACM's president, Dr. Cynthia Bambara, said the college has accepted a mission to make tangible contributions through higher education in support of economic growth of the region with programs that address emerging trends in workforce training and education.
"The college, in cooperation with the Western Maryland IT Center of Excellence, is committed to making Allegany County a 'technology-ready' region while educating a strong workforce to satisfy the growing demand for a wide range of opportunities in information technology," Bambara said.
"This funding will allow the college the opportunity to continue to be an economic engine for our region," she continued. "It will greatly enhance our capacity to address the needs of our students and to positively impact their success."
Among the population to benefit from the job training offered through CPAM are military veterans and workers made jobless by unfair foreign trade practices. Low-skilled adults, women and other populations underrepresented in cybersecurity and other IT fields are also in the target audience.
Although Maryland is a national center of cybersecurity with more than 130,000 IT jobs – 49 percent above the national average – many workers find these careers difficult to enter.
CPAM is intended to create linkages with employers and develop mechanisms for career pathways to address this workforce need.
In addition to job training in credit and continuing education programs, students will be afforded academic support services in assessment, career planning and job search. The consortium's goal is to graduate approximately 2,000 students after three years.
Interested employers and stakeholders should contact Kristi Smith, division chair and associate professor of computer technology, for more information about CPAM. She can be reached at ksmith@allegany.edu or 301-784-5326.