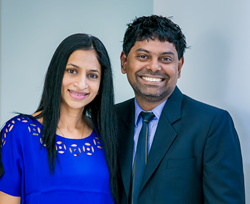 At Esthetix Dental Spa, we know how important having a great smile is to looking and feeling good.
New York, NY (PRWEB) October 18, 2014
The sudden closure of a major provider of orthodontic dental care in the community has left hundreds of patients scrambling for oral health care. Patients who may have started their care with the two closed offices of another provider now have incomplete orthodontic care. Other patients may have been referred to the center and now are not sure where to go for their orthodontic consultations and procedures. This mysterious event has left literally thousands of that practice's former patients wondering how they can continue receiving the orthodontic care they need.
The aftermath of this event has caused patients to seek a new office for care. Esthetix Dental Spa has emerged as the answer. Having serviced the residents of Washington Heights and the Bronx for almost 15 years Dr Philomin and Dr Divya have worked closely in this community and have become the "go to" dentist for dental implants, dentures, fillings, cleanings and Invisalign.
Patients that have already initiated Invisalign treatment with a dentist that is no longer available can finish the treatment with Dr. Divya. By offering meticulous and attentive care, Dr. Divya delivers to each patient the healthy and beautiful smile he or she deserves.
As a practitioner of orthodontic and cosmetic dentistry at Esthetix Dental Spa, Dr. Divya is available to complete Invisalign treatments that are already in progress. With the recent closure, she is now the only local PREMIERE PREFERRED PROVIDER of Invisalign. Patients who have not yet started orthodontic treatment may also begin their care with Dr. Divya.
Who Is a Candidate for Invisalign?
Many patients wonder whether or not they are candidates for the Invisalign system. There is no age limit on whom can benefit from braces, including the clear Invisalign system. Unlike traditional braces, the Invisalign system uses a series of tight-fitting, custom-designed trays that gradually shift the teeth into the correct position in the mouth. Not only are the Invisalign trays comfortable, but they are nearly invisible. The trays are removable so that patients can eat what they want. The removable Invisalign trays also make it easy to brush and floss the teeth during the course of treatment.
More than 40 percent of Americans receiving treatment for orthodontic issues are adults. Invisalign Bronx is also available to anyone who is looking to enjoy the aesthetic and health benefits of straight and healthy teeth. The many benefits of orthodontic treatments such as Invisalign include:

Achievement of a beautiful smile and straight teeth
Closure gaps between teeth
Correction of crowding and bite related issues
Insuring normal and healthy function of the teeth and gums
Treatment with Invisalign makes it easier to keep the teeth healthy and clean. The orthodontic correction provided by the Invisalign system helps to reduce pain and wear and tear on the teeth and gums. Dr. Divya takes pride in providing her patients with high-quality dental care and treatment options for orthodontic needs.
Dr. Divya has been voted "One of the Leading and Top Physicians in the World Today" and "America's Top Dentist" in the Dentist Today Magazine. Patients selecting Dr. Divya for Invisalign Washington Heights treatment and all other cosmetic dental needs can rest assured knowing they are receiving top of the line and state-of-the-art treatment. Patients seeking to complete their Invisalign orthodontic care or initiate Invisalign treatment may contact Dr. Divya at (212) 795-9675 to schedule an Invisalign 10032 consultation.