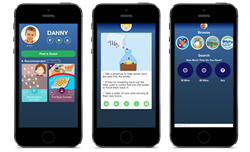 "The KidQuest app combines the fun of technologywith shared interaction and experience – a balanced lifestyle that parents are looking for." Jim Davis, creator of Garfield
Waterloo, ON (PRWEB) October 16, 2014
KidQuest, the app providing interactive children's crafts, experiments, and activities, today announced partnerships with four leading children's brands. Branded kids' activities from Garfield, Jim Henson's Doozers, Peep and the Big Wide WorldTM, and FETCH! With Ruff Ruffman will now be featured on the KidQuest platform. This represents the launch of KidQuest's Partner Program, which provides top brands with a way to connect with families through activities featuring their original characters.
KidQuest solves the problem for parents, who want to do engaging, educational, and fun things with their kids, but don't know where to start. "We built KidQuest to make it easy for parents to create special memories of great activities with their kids" said Dave Bullock, co-founder of KidQuest. "Partnering with some truly iconic brands lets us bring the characters kids love into these adventures."
Launched only 3 months ago, KidQuest has already guided families through over 100,000 activities. The app helps families find the perfect activity based on the age of their child and time available, and then guides the process with animated step-by-step instructions. The announced KidQuest partnerships will bring dozens of new activities to the platform, including:

FETCH! With Ruff Ruffman: Discover engineering as you build your own catapult!
Peep and the Big Wide World: Learn about water lilies as you make your own in a science craft!
Garfield: Fun interactive drawing games where you learn how to sketch Garfield like a pro!
Doozers: Build a solar cooker to help the Doozers make delicious s'mores!
"At it's best, mobile technology is a tool for kids to explore the world around them" said Maria Wolsky, Executive Producer at WGBH, creators of Peep and the Big Wide World and FETCH! with Ruff Ruffman. "We've worked with the KidQuest team to make great activities that will help keep young minds curious and active."
"Doozers is built around themes of creative discovery, inventing, and problem solving," said Anna Jordan Douglass, VP of Digital Development and Interactive for The Jim Henson Company. "KidQuest is a great way for us to extend those learning themes beyond the episodes and into the home."
The KidQuest app is available for free download on Apple iOS devices, and comes with dozens of free crafts, experiments, and activities. Premium content packs are available as purchased add-ons to extend the library of free content.
Get started with KidQuest:
Web: http://getkidquest.com
Apple Store: https://itunes.apple.com/us/app/kidquest/id886253214?mt=8