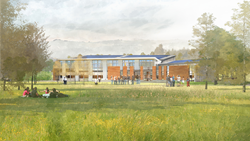 "RMI has huge ambitions—nothing short of changing the way the world produces and consumes energy"Marty Picket, RMI
Basalt, Colorado (PRWEB) October 15, 2014
Rocky Mountain Institute (RMI), with its architects, ZGF Architects LLP, and its general contractor, JE Dunn Construction, breaks ground today for RMI's new flagship building – its Innovation Center – in the Roaring Fork Valley. Encompassing RMI's 32 years of innovation, the new 15,610 square-foot facility will exhibit the principles of integrative design and energy and resource efficiency as the organization seeks to continue its outstanding strategic collaboration in global energy.
"RMI has huge ambitions—nothing short of changing the way the world produces and consumes energy," said RMI Managing Director and General Counsel Marty Pickett. "RMI's Innovation Center in Basalt, Colorado, not far from where RMI was founded 32 years ago, will provide offices for 50 staff and offer a convening venue for collaboration with the community, industry stakeholders and global leaders." 
RMI's Innovation Center will embrace the following unique features:

Energy efficiency and renewable energy: With a predicted energy-use intensity of only 16 kBTU per square foot, the center will be the most efficient building in the coldest climate zone in the U.S. Including an approximately 80 kW roof-mounted solar photovoltaic system, the building will be net zero energy, producing equal-to or more energy than it uses on an annual basis.
Redefining Thermal comfort: The building will completely redefine how occupants experience and control their individual comfort in buildings; accomplished through passive design measures and a variety of technologies that eliminated mechanical cooling and reduced heating to a limited, distributed system.
Integrated Project Delivery: RMI and its building partners used an integrated project delivery (IPD) process - an emerging method of design and construction that aligns financial incentives around a truly integrative design process. As part of their multi-party agreement, a risk and reward pool ensures both cost and performance goals are met.
Graywater reuse system: Once Colorado legislation is finalized to allow it, RMI will have one of the first graywater reuse systems in the state. It will ensure that the building does not use any potable water for toilet flushing or landscape irrigation.
As part of RMI's ongoing commitment to increase impact and share best practices for energy efficiency, RMI will publish updates about the successes and challenges of the project for others to learn from throughout the project's design and completion. Approximately 90 percent of buildings in this country are similar in size to RMI's new building (under 25,000 SF) and commercial is the largest use type. The results of RMI's design, contracting, construction and operations process and the building's aggressive performance are applicable to owners, occupants and investors across the U.S.
"From reinventing the design process to creating a new definition of occupant comfort, the building team has continually explored the edge of what is possible. If every commercial building in the U.S. increased its energy efficiency to this level, enough energy could be saved in one month to power New York City for an entire year," said Kathy Berg, partner at ZGF Architects LLP.
"The partnership among JE Dunn, RMI, and ZGF Architects is a perfect blend of expertise in energy, construction, technology and design," said Mike Tilbury, project executive for JE Dunn Construction. "JE Dunn has built numerous projects throughout the U.S. that have the highest energy efficient standards. This project takes that excellence to the next level and will showcase JE Dunn's use of the latest technologies in energy efficient construction."
Construction of RMI's Innovation Center is estimated to take between 12-14 months and will cost $7.5 million for the building's core and shell plus tenant finishes. This is comparable to other recently built, small, class A office spaces in the Colorado mountain region. Having raised significant funds for the building in a quiet phase, RMI will launch a public capital campaign to complete funding.
"RMI has a rich history of collaboration and innovation in the Roaring Fork Valley," said Basalt Mayor Jacque Whitsitt. "The Town of Basalt has been an enthusiastic partner in this development project since day one. RMI's innovation center will anchor the long-term plan to enhance the town economically and culturally."
For more information on the Innovation Center, please visit http://www.rmi.org/rmi_innovation_center.
About Rocky Mountain Institute  Since 1982, Rocky Mountain Institute has advanced market-based solutions that transform global energy use to create a clean, prosperous and secure future. An independent, nonprofit think-and-do tank, RMI engages with businesses, communities and institutions to accelerate and scale replicable solutions that drive the cost-effective shift from fossil fuels to efficiency and renewables. Please visit http://www.rmi.org for more information.
About ZGF Architects LLP ZGF is a national practice offering services in architecture, urban design and interior design with offices in Portland, Seattle, Los Angeles, Washington, DC, New York, and Vancouver, BC. The firm has received more than 700 awards for design excellence, including the Architecture Firm Award, the highest accolade given to a company by the American Institute of Architects (AIA).
About JE Dunn Construction JE Dunn Construction Company is a nationally ranked general building contractor and premier provider for preconstruction and construction services with a specific focus on science and technology, commercial, healthcare, mission critical and higher education. Since 1998, JE Dunn's Colorado offices have completed over 200 construction projects totaling over $2.5 billion. With 20 offices in 14 states, JE Dunn strives to be the best client-centered building partner in the United States.