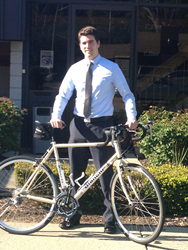 Our goal is to try to help prevent cyclist injuries. If you own one of these recalled helmets, stop using it and contact Louis Garneau customer service for more information.
Ann Arbor, MI (PRWEB) October 15, 2014
Bicycle Accident Attorneys Sean Murphy and Jason Waechter, of bicycleaccidentlawyersusa.com, are trying to help get the word out about a recall that affects almost 1,200 bicycle helmets. The affected helmets are Louis Garneau P-09 aerodynamic helmets (model number 1405362). The issue, according to the Consumer Product Safety Commission (CPSC), is that the helmets can fail to protect the wearer from an impact injury when used in cold temperatures.
"Our hope," says Murphy, "is that cyclists will hear about the recall before using this particular helmet in cold weather. The goal is to try to prevent any cyclist injuries as a result of this issue."
At this point, no incidents or injuries have been associated with this issue, but Louis Garneau USA recommends that cyclists stop using these helmets immediately. Cyclists who own affected helmets can return them to Louis Garneau for a refund or replacement with a similar – and safe – alternative.
Affected helmets have a sticker inside listing the manufacture date as "Jan. 2014". They were sold between January and September 2014 for anywhere from $280 to $350. The helmets have a rounded front, with a short and tapered tail.
"These helmets are shaped like a tear drop, when viewed from the side," says Murphy.
The helmets also have a built-in visor system, dimples like those on a golf ball, and two small vents: a rectangular vent in the front and a triangular vent in the rear. The helmets, which are branded with the Louis Garneau logo on the front and "Garneau" on both sides, came in three color combinations: black with red and white accents; white with blue and grey accents; and white with silver and white accents.
"If you own one of these recalled helmets, stop using it and contact Louis Garneau customer service to find out how to return or exchange it," advises Murphy. "If you have been injured in a bicycle crash, contact an experienced lawyer right away," he adds.
To reach Louis Garneau customer service, call 1-800-448-1984 between 8 a.m. and 6 p.m. Monday to Friday, or visit their website.
## ##
Attorneys Sean Murphy and Jason Waechter are Michigan attorney's specializing in bicycle accident and personal injury litigation. Waechter's firm has collected millions of dollars in settlements, awards, and verdicts for his clients over the last 20 years, as well as contributing significantly to safety education and accident prevention. For more information, visit their website at http://www.bicycleaccidentlawyersusa.com.