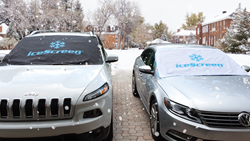 iceScreen offers a quick and efficient way for drivers to remove snow and ice from their windshields, avoiding potential fines.
Hollywood, FL (PRWEB) October 15, 2014
Entrepreneurs Dan Miller and Andy Wright never imagined their homemade snow cover would become an instant Kickstarter success. Almost $35,000 and over 600 backers later, they have a new perspective. With just four weeks left, backers have until November 9th to pre-order the iceScreen and get their hands on one in time for the snow to start falling.
"Drivers operating as 'tank commanders' with peepholes through windshields covered in snow is extremely dangerous. It puts the drivers and those around them at risk," said Dan. "So, we set out to do something about it."
Snow removal laws are now being enforced in several states, citing drivers with snow or ice on their vehicles. For instance, in Pennsylvania, neglecting to clear off snow can lead to a fine of $200-$1,000. Other states have been known to order people off the highway for snow accumulations.
While most drivers agree that these snow laws are in place for good reason, the inconvenience of removing snow from their windshields or facing potential fines is a hassle. "iceScreen offers a quick and efficient way for drivers to remove snow and ice from their vehicles, avoid potential fines and create a safe driving environment," replied Andy.
The iceScreen, which is currently raising funds through Kickstarter, magnetically attaches to vehicles to keep snow, frost and ice from accumulating on windshields overnight. Simply attach the iceScreen the night before driving and wake up to a clean windshield – making your morning more pleasant and leaving no question that you're following the letter of the law.
Due to the incredible amount of interest and success from around the globe, last week the team released new color options. Backers will now have the option to match the product to their vehicle for as low as $25.
To read more about iceScreen and to back the project, visit here. Be sure to like them on Facebook and follow them on Twitter to find out about future giveaways and promotions.
About iceScreen
Mechanic Andy Wright and computer tech Dan Miller created the iceScreen out of a need for a quality, multi-functional windshield protector. The iceScreen magnetic ice shield delivers a simple, effective way to clear a windshield of snow or ice in seconds. The iceScreen can also be used as a sun reflector in summer months – when flipped over the magnetic ice shield features a reflective surface that keeps auto interiors cool.
Contact: Dan Miller and Andy Wright
Kickstarter campaign: iceScreen
Email: contact(at)icescreen(dot)com