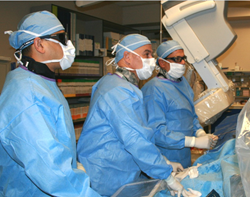 New York, NY (PRWEB) October 14, 2014
The Mount Sinai Hospital is first in the United States to use the first and only FDA-approved, drug-coated balloon to open blocked arteries in the leg.
"I am excited to be first in providing this FDA approved technology to our peripheral arterial disease patients at The Mount Sinai Hospital," says Prakash Krishnan, MD, FACC, Director of Endovascular Services at Mount Sinai Heart who performed the first case post-FDA approval on October 11 with Jose Wiley, MD, FACC, and Bhaskar Purushottam, MD, of Mount Sinai. "This drug coated balloon may be a game changer in the management of patients with peripheral arterial disease. It can effectively reduce the recurrence of blockages in patients, which can help prevent limb amputations, improve a patient's quality of life, and also be lifesaving."
The device is used during an angioplasty procedure in the Cardiac Catheterization Laboratory for patients with peripheral arterial disease who have severely blocked femoro-popliteal arteries, major arteries that supply blood throughout the legs. The innovative balloon works to dilate a blocked artery restoring blood flow to the limb, while administering a therapeutic dose of the drug paclitaxel inside the artery to prevent it from narrowing in the future.
PAD is a life-threatening condition affecting at least 8 million Americans. The condition narrows arteries reducing blood flow to the limbs. Patients with PAD in their femoropopliteal arteries, especially those older than 50 years of age and those with diabetes, are at increased risk for lower-extremity amputation.
The new device – the Lutonix® 035 Drug Coated Balloon (DCB) Catheter – is made by C.R. Bard, Inc., and received FDA approval on October 10.
"Preventing future artery blockages is as important as opening the initial blockage," says Dr. Krishnan. "This drug-coated balloon technology can help prevent further blockage in the artery."
Mount Sinai was one of 54 sites in the world participating in the LEVANT 2 pivotal study, a global randomized clinical trial that compared the new drug-coated balloon to the current standard therapy of using a non-drug coated balloon catheter during angioplasty. After one year, the study results, which led to the device's FDA approval, demonstrated the technology improved blood flow in arteries, increased patient mobility for walking longer distances, and reduced the rates of blood clots.
Dr. Krishnan served as principal investigator at Mount Sinai for the LEVANT 2 pivotal study. He also is a consultant for C.R. Bard, Inc. the maker of the drug-coated balloon catheter.
About the Mount Sinai Health System
The Mount Sinai Health System is an integrated health system committed to providing distinguished care, conducting transformative research, and advancing biomedical education. Structured around seven member hospital campuses and a single medical school, the Health System has an extensive ambulatory network and a range of inpatient and outpatient services—from community based facilities to tertiary and quaternary care.
The System includes approximately 6,600 primary and specialty care physicians, 12minority owned free standing ambulatory surgery centers, over 45 ambulatory practices throughout the five boroughs of New York City, Westchester, and Long Island, as well as 31 affiliated community health centers. Physicians are affiliated with the Icahn School of Medicine at Mount Sinai, which is ranked among the top 20 medical schools both in National Institutes of Health funding and by U.S. News & World Report.
For more information, visit http://www.mountsinai.org or find Mount Sinai on Facebook, Twitter and YouTube