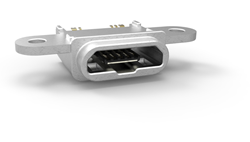 SHANGHAI (PRWEB) October 15, 2014
TE Connectivity (TE), a world leader in connectivity, today introduced its IP68 waterproof micro USB 2.0 connector, an upgrade to the IP57 splash-proof model, to provide stronger protection for today's smaller and thinner mobile devices against the ingression of water and solid objects such as dust.
The IP (ingress protection) rating specifies the degree of protection against either solid objects or liquid. The first digit describes the protection against solid objects, while the second digit indicates the protection against liquid. The higher the number, the better the protection. TE's IP68 connector remains intact at a water depth of 1.5 meters for a minimum of 30 minutes.
"With a dimension of H 3.04mm x W 17.8mm (with ears) x D 7.9mm, our waterproof micro USB connectors use a metal injection molded (MIM) shell to achieve the IP68 standard," said Egbert Stellinga, product manager, TE Consumer Devices. "The stainless steel MIM shell replaces the traditional stamped and formed shell, which typically contains many holes and is less usable for waterproof connectors. Our MIM shell can provide the improved strength against wrenching and false insertion, and reduces the shell height by 0.3mm."
Other key features and benefits of the IP68 micro USB 2.0 connector include:

Staggered contacts provide improved signal separation as well as enhanced mechanical stability.
Equipped with an undercut matching the plug latches, the connector keeps the plug mated like the normal micro USB connector.
The metal reinforcement plate prevents damage to the plastic tab containing the contacts inside the connector and prevents electrical short circuits.
The circular interface to the main shell allows for easy integration of the connector in a device.
Screw-mounting ears make it easier to integrate and position the connector in the final application.
For additional information on TE's IP68 waterproof micro USB 2.0 connector, go to: http://www.te.com/catalog/minf/en/968.
TE Connectivity, TE and TE connectivity (logo) are trademarks. Other logos, product and/or company names might be trademarks of their respective owners.
ABOUT TE CONNECTIVITY
TE Connectivity is a $13 billion world leader in connectivity. The company designs and manufactures products at the heart of electronic connections for the world's leading industries, including automotive, energy and industrial, broadband communications, consumer devices, healthcare, and aerospace and defense. TE Connectivity's long-standing commitment to innovation and engineering excellence helps its customers solve the need for more energy efficiency, always-on communications and ever-increasing productivity. With nearly 90,000 employees in over 50 countries, TE Connectivity makes connections the world relies on to work flawlessly every day. To connect with the company, visit: http://www.TE.com.
Contacts:
Media Relations:
Grace Zheng
TE Connectivity
+(86)-21-33980797
grace.zheng(at)te(dot)com
Product Communications:
Egbert Stellinga
Product Manager
+(31)-73-6246543
estellinga(at)te(dot)com