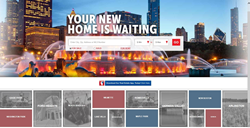 Chicago, IL (PRWEB) October 14, 2014
The RE/MAX Northern Illinois network recently introduced an extensive redesign of its popular website, http://www.illinoisproperty.com. The site has a new look and feel, with millions of high resolution photos that dominate the site, a tablet friendly search and INRX Drive TimeTM, a search tool that allows consumers the ability to search properties for sale by desired drive time. The website provides access to all northern Illinois multiple listing services (MLSs) so users can search the most accurate and current inventory of properties for sale and for rent. Users can also retrieve detailed information on sold and rented properties, plus those under contract.
The newly redesigned website provides a host of new features and enhanced functionality that is intuitive and easy to use, making the real estate search process enjoyable and efficient. Much of the existing information on the website has been streamlined so users can access more comprehensive information immediately.
Some of the newest features on http://www.illinoisproperty.com were built specifically to meet the needs of buyers, sellers, investors and renters in today's market. The home page provides extensive search tools for finding rentals or luxury, foreclosed and commercial properties for sale. Consumers can also download the new RE/MAX Northern Illinois Real Estate App, which allows users to enjoy an integrated search experience and take the in-depth search options, user friendliness and photo quality of the illinoisproperty.com website with them wherever they go.
"Illinoisproperty.com is an attractive, yet functional website that is rich in photos and content. It delivers exactly what consumers need to navigate today's real estate market," said Casey Reagan, Chief Technology Officer for the RE/MAX Northern Illinois network. "The site will grow and evolve as we continue to provide search platforms and features that are relevant and meaningful to the demands of our customers in any given real estate market. This is the first phase of enhancements designed to meet the ever increasing demand for a mobile-centric design, one that can easily scale from a desktop search to a tablet or smart phone search."
The http://www.illinoisproperty.com website has long been one of Chicagoland's and northern Illinois' most accessed real estate websites and has received industry awards for its popularity based on technological innovation and ease-of-use.
RE/MAX has been the leader in the northern Illinois real estate market since 1989. The RE/MAX Northern Illinois network, with headquarters in Elgin, Ill., consists of 2,000 sales associates and 100 individually owned and operated RE/MAX offices that provide a full range of residential and commercial brokerage services. Its mobile real estate app and http://www.illinoisproperty.com provide comprehensive information about residential and commercial property for sale in the region. The northern Illinois network is part of RE/MAX, LLC, a global real estate organization with 90,000+ sales associates in 90+ nations.