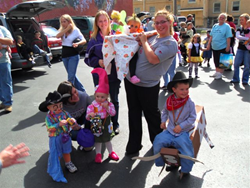 Duncan, OK (PRWEB) October 22, 2014
Join Main Street Duncan for their annual Boo Review.
This is a safe and fun, family friendly event which takes place on Saturday, October 25th from 11am to 1pm. Children are encouraged to come dressed in costume and visit the businesses along Duncan's Historic Main Street.
Main Street Duncan's Boo Review makes October 25th a full day of wholesome pre-Halloween fun. Boo Review will be a host of exciting activities, bounces houses, coloring contest and lots of treats for your little goblins. Creep your way throughout downtown and see all of the friendly characters that line the streets giving away candy. The business owners in Downtown love to see all of the best cute costumes and put smiles on kids' faces as they say "Trick or Treat". Follow the candy trail, participate in the costume contest and then stop by the historic Palace Theatre at 1pm for a free movie for the family.
Boo Review is brought to the community every year by Main Street Duncan whose mission is to preserve the heritage of the Downtown Duncan Historic District, which includes 7th to 11th streets from Oak to Willow. Main Street Duncan works tirelessly to provide family friendly events for the community. It is the organizer of the "Cruisin the Chisholm Trail" Car and Motorcycle in April, the "Holiday Stroll" in November and the Christmas Parade in December.
Bring your family to Duncan's historic downtown. For more information contact Main Street Duncan at 580-252-8696.