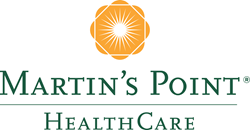 "We share this recognition with our members and the tremendous health care community here in Maine. High quality primary care has been a hallmark of health care in Maine for years and this star rating puts that work into a national context."
Portland ME (PRWEB) October 14, 2014
Medicare beneficiaries living in Maine have access to one of only 11 plans in the country to earn 5 stars from the Centers for Medicare and Medicaid Services (CMS) for 2015. The Portland based not-for-profit Martin's Point Health Care's Generations Advantage Prime Plan is the only plan in Maine to earn 5 stars. Five stars is the highest possible overall rating for quality and service awarded to Medicare Advantage plans.
"We are incredibly proud to offer a 5-star plan to our friends and neighbors here in Maine," said David Howes, MD, President and CEO of Martin's Point Health Care. "And we really must share this recognition with our members for taking an active role in their own health, as well as with the tremendous health care community here in Maine. High quality primary care has been a hallmark of health care in Maine for years and this star rating puts that work into a national context."
The Medicare Advantage Star Ratings are meant to help seniors compare the level of health care quality and service offered by Medicare health plans. Historically, while nearly 500 plans are rated each year, only a handful of plans nationally have earned 5 stars. The overall rating is based on nearly 50 care and service quality measures, across multiple categories including how the plan helps members stay healthy, managing chronic conditions, customer service and prescription drug services. This is the third year Martin's Point has earned 5 stars since 2010.
"We believe this rating reflects our commitment to providing our community the highest quality and the highest service possible," said Rebekah Dube, Vice President of Senior Products for Martin's Point. "Our team here in Portland knows that we are serving our family members, our neighbors and our friends across the state. That's why we do this work. It's personal for us and that makes this honor even more gratifying."
Martin's Point serves more than 30,000 Medicare beneficiaries in its Generations Advantage plans making it the largest plan in the state.
In addition to representing the highest quality recognition given by CMS, the 5-star rating also means that Medicare beneficiaries in Maine may enroll in Generations Advantage after the annual enrollment period (which runs from October 15 – December 7) beginning December 8 and then throughout 2015. Medicare allows 5-star plans a special opportunity to make it easier for seniors to move into higher quality plans.
About Martin's Point
Martin's Point is a not-for-profit health care organization based in Portland, Maine. Martin's Point offers two health plans – Generations Advantage serving Medicare beneficiaries in Maine and two counties in New Hampshire and the US Family Health Plan serving Military retirees and the families of active duty military in Maine, New Hampshire, Vermont, upstate New York and certain counties in Pennsylvania. In addition, Martin's Point provides primary care services through nine health care centers from Bangor, Maine to Portsmouth, New Hampshire. Employing nearly 800 people, Martin's Point is one of the larger employers in Maine and is active in community service programs.