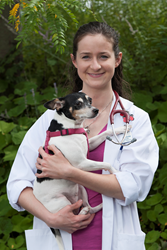 Dunmore, Pennsylvania (PRWEB) October 17, 2014
VCA Dunmore Animal Hospital is proud to announce the addition of Shannon Layne, DVM and her interest in stem cell therapy to their team. Credentialed in Regenerative Cell Therapy with Vet-Stem since January of 2011, Dr. Layne has proudly been treating pets with osteoarthritis and ligament injuries in north-east Pennsylvania with stem cell therapy for the last four years.
Dr. Layne graduated from North Carolina State University, College of Veterinary Medicine in 2010 and has taken a special interest in Regenerative Veterinary Medicine and stem cell therapy since. In contrast to widely used drug therapies for pain management, cell-based therapies (like stem cell therapy) can promote healing, reduce inflammation, and decrease pain. Dr Layne also offers traditional Chinese veterinary medicine including acupuncture and Chinese herbs if clients are interested in a more holistic approach.
Stem cells are regenerative cells that can differentiate into many tissue types (reducing pain and inflammation) thus helping to restore range of motion and regenerate tendon, ligament and joint tissues (Vet-Stem.com/science). In a study using Vet-Stem Regenerative Cell Therapy on dogs with osteoarthritis of the hip joint it was found that regenerative cell therapy (adipose-derived stem cells) decreases patient discomfort and increases patient functional ability.
Once Dr. Layne has identified a patient as a good candidate for stem cell therapy the procedure begins with a fatty tissue collection from the patient. The tissue sample is sent overnight to Vet-Stem's lab in California for processing. Once processed the stem cells are extracted and fresh, injectable doses of the patient's stem cells are sent overnight, back to Dr. Layne at VCA Dunmore Animal Hospital. Within 48hrs of collecting a fat sample from a patient Dr. Layne is able to inject stem cells into (arthritic or injured) affected areas and regeneration and healing can begin.
At VCA Dunmore Animal Hospital Dr. Layne will be practicing in an 8,800 square foot, state of the art facility that includes two extensive surgery suites. For more information on VCA Dunmore Animal Hospital please visit their website at http://www.vcahospitals.com/dunmore.
About Vet-Stem, Inc.
Since its formation in 2002, Vet-Stem, Inc. has endeavored to improve the lives of animals through regenerative medicine. As the first company in the United States to provide an adipose-derived stem cell service to veterinarians for their patients, Vet-Stem pioneered the use of regenerative stem cells for horses, dogs, cats, and some exotics. In 2004 the first horse was treated with Vet-Stem Regenerative Cell Therapy for a tendon injury that would normally have been career ending. Ten years later Vet-Stem celebrated its 10,000th animal treated, and the success of establishing stem cell therapy as a regenerative medicine for certain inflammatory, degenerative, and arthritic diseases. As animal advocates, veterinarians, veterinary technicians, and cell biologists, the team at Vet-Stem tasks themselves with the responsibility of discovering, refining, and bringing to market innovative medical therapies that utilize the body's own healing and regenerative cells.
For more information about Vet-Stem and Regenerative Veterinary Medicine visit http://www.vet-stem.com or call 858-748-2004.