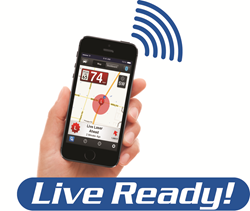 Our new PASSPORT® and PASSPORT Max2™ radar detectors offer drivers easy connectivity to the ESCORT Live™ social ticket protection app
New York, New York (PRWEB) October 15, 2014
ESCORT Exhibits New Bluetooth Equipped Radar Detectors at New York City GetGeeked Media & Consumer Event
Bluetooth Equipped PASSPORT® and Max2™ Radar Detectors Link Award-winning ESCORT Live™ Ticket Protection App
ESCORT Inc. (ESCORTradar.com), designer and manufacturer of the world's best performing radar & laser detectors, will be demonstrating the new PASSPORT® and PASSPORT Max2™ radar detectors featuring built-in Bluetooth® connectivity, in New York City this week. The Bluetooth technology provides connection to the highly awarded ESCORT Live™ social network ticket protection app.
ESCORT Live™ provides real time threat and information sharing among smartphone connected drivers. When paired with the mobile app, the new detectors provide drivers significantly expanded driving awareness with community based real-time information and alerts.
ESCORT is demonstrating both detectors and the mobile app at the GetGeeked Media and Tech Enthusiast Event, Thursday, October 16, at the Metropolitan West – 639 W 46th Street, New York, NY 10036 (between 11th and 12th Ave). Doors open for media at 4 PM and then for the public at 7 PM.
"Our new PASSPORT® and PASSPORT Max2™ radar detectors offer drivers easy connectivity to the ESCORT Live™ social ticket protection app," said Ron Gividen, ESCORT PR and Media Director. "Together they provide an infinite amount of shared alerts and information to help warn drivers … even before they leave their driveway."
In addition to their Bluetooth connectivity, ESCORT's newest detectors also feature a dual language set for audible voice alerts (English or Spanish), a multi-color graphics display, a USB port for internet connectivity and a headphone port.
For more information on the new ESCORT PASSPORT® (retail $349.95) and new PASSPORT Max2™ (retail $599.95) Radar Detectors, and the ESCORT Live™ ticket protection app, see ESCORT on YouTube, visit ESCORTradar.com or, call the company direct at 800.433.3487.
About ESCORT Inc.
ESCORT is the leading manufacturer of high-performance radar and laser detectors and the patented ESCORT Live™ real-time ticket protection network. ESCORT manufactures products under the ESCORT, PASSPORT, Max, REDLINE, SOLO, Pro and BELTRONICS brands. The company is headquartered in West Chester, Ohio, with its principal manufacturing facility located in Mississauga, Ontario, Canada. Additional information about Escort, Inc. is available at Escortradar.com.
Editorial Contact:
Ron Gividen
513.870.8500
press(at)escortinc(dot)com