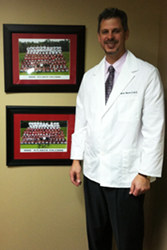 Buford, GA (PRWEB) October 15, 2014
Patients with receding gums in Buford, GA are encouraged to take control of their dental health during Dental Hygiene Month by receiving the Pinhole Surgical Technique (PST™) from Dr. Randolph S. Moore. Regardless of whether receding gums are caused by periodontal disease, brushing too vigorously, or for another reason, PST™ offers an effective and minimally painful solution. Patients who do not want to seek traditional gum grafting treatment methods are encouraged to find out more about PST™ by calling Dr. Moore's office.
Standard treatment for receding gums in Buford, GA often involves cutting healthy tissue from beneath the outer layer of the roof of the mouth and then connecting it to the receding area with stitches. This procedure is referred to as gum grafting, and it can be a very uncomfortable and time consuming process. Because gum recession often occurs towards the front of the mouth, it can be embarrassing to deal with noticeable stitches while the area heals, which is one reason some patients choose to forego treatment for receding gums. However, if gum recession is not promptly dealt with, it can lead to more serious complications, especially if it is caused by periodontal disease.
Patients who do not want to suffer through a standard gum grafting procedure now have a simple and effective alternative treatment option called PST™. This procedure causes minimal discomfort and does not include gum grafting or stitches. Gum rejuvenation is performed by making a pinpoint hole in the gum tissue, and then gently lifting the gum tissue placing it back to its normal height. Because the procedure is minimally invasive, patients do not need to worry about excessive swelling, bleeding, or a lengthy recovery time. Additionally, the minimally invasive nature of the procedure significantly reduces the amount of discomfort the patient feels during and after the treatment process.
Dr. Moore invites all patients with receding gums in Buford, GA to learn more about PST™ and dental health during Dental Hygiene Month. Patients can learn additional information about the procedure and how to combat periodontal disease by scheduling a consultation with Dr. Moore's Buford practice.
About The Doctor
Dr. Randolph S. Moore is a general dentist offering personalized dental care for patients in the Buford, GA area for over 20 years. Dr. Moore received his degree from the University of Alabama in Birmingham, and completed his residency at the Veterans Hospital in Birmingham. Dr. Moore is active in the dentistry field and is a member of the Georgia Dental Association, the American Dental Association, American General Dentistry, American Academy of Cosmetic Dentistry and ICOI (International Congress of Oral Implantologists). To learn more about Dr. Moore and his dental services visit their website at http://www.smilemooredentistry.com/, or call (770) 545-6141.