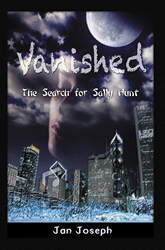 When Sally's mother finds her missing and calls the police, they learn more than they bargained for!
(PRWEB) October 20, 2014
"Vanished" surrounds the disappearance of a young woman that is shrouded in mystery, when the police are searching for her, they find nothing but hidden secrets from her past.
Who is Sally Hunt and why has she vanished? The story begins in 1974, when Sally receives a strange visitor at her college dorm, who tells Sally that she has healing powers. Not sure how to use this ability, or if it's even real, Sally meets a psychic named Carmella, who previously located a young boy who was kidnapped and killed by a pedophile. Carmella becomes an anchor in Sally's life as Sally becomes a teacher and writer.
Six years later, when Sally's mother finds her missing and calls the police, they learn more than they bargained for, including that Sally was being blackmailed. In their frustration, they call upon a psychic for help.
Watch the video at: https://www.youtube.com/watch?v=8GM1SuflhnQ
About the Author
Jan Joseph earned a bachelor's degree in elementary education from the University of Illinois at Chicago, teaching elementary school before changing direction to work for a national medical association in Chicago, where she developed medical curriculum and educational policies. She is now executive director of a national medical specialty association.
Book Details
Genre: Crime / Mystery / Detective
Author: Jan Joseph
Format: Paperback, 258 pages
Pub date: September 2014
"VANISHED: THE SEARCH FOR SALLY HUNT" (ISBN: 978-1-62857-877-5) is now available for $16.50 and can be ordered through the publisher's website:
http://sbprabooks.com/JanJoseph, Amazon, or the website of Barnes & Noble.
WHOLESALERS: This book is distributed by Ingram Books and other wholesale distributors. Contact your representative with the ISBN for purchase. Wholesale purchase for retailers, universities, libraries, and other organizations is also available through the publisher; please email bookorder(at)sbpra(dot)net.
Strategic Book Publishing and Rights Co, LLC