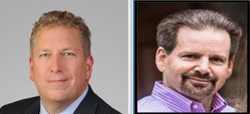 King of Prussia, PA (PRWEB) October 22, 2014
Richard Carlson, Managing Partner of Blue Fin Group, is recognized as an industry leader with over 25 years experience. Mr. Carlson is a Pharmaceutical industry award winning team leader in the areas related to EDI, B2B Commerce, RFID and Internet/Intranet technology. In addition, Mr. Carlson is an Editorial Advisory Board member for Pharmaceutical Commerce Magazine and a Gerson Lehrman Group Healthcare Council Educator. Blue Fin Group is a management and technology consulting firm focused solely on Healthcare commerce, assisting clients ranging from start-ups through the Top 5.
Marc Duey, President and CEO of ProMetrics, has over two decades of experience in the Pharmaceutical and Biotechnology fields. Mr. Duey founded ProMetrics in 1994 to provide data aggregation, integration, analysis and decision support to pharmaceutical companies. Under his direction, the firm has serviced over 140 clients and managed over 9,000 projects.
Mr. Carlson and Mr. Duey will be collaborating to lead an exclusive workshop titled "Specialty Pharmacy Data Contracting". They will discuss how manufacturers can overcome the challenges with the complexity of specialty pharmacy data and how they can ensure early success from the contracting stage. Key questions will be answered regarding data available from specialty pharmacies, industry standards, performance metrics and leveraging specialty pharmacy performance score cards to strategically manage the network.
The workshop will discuss these three topics, using case studies and interactive models:
1. Best Practices to Ensure Successful Data Contracting: How to build report templates
and coordinate with internal teams.
2. Tackle Complexities of Specialty Pharmacy Data Collection: How to align data across
various formats from multiple specialty pharmacies, and how to obtain complete and
accurate data from specialty pharmacies in a timely fashion.
3. Leverage Technology to Align Data Requirements with Business Needs: Tracking
patients across multiple specialty pharmacies, managing medication distribution to
identify unmet needs, and incorporate score cards to accurately measure specialty
pharmacies performance.
We hope that you will join us for this incredible collaboration as two of the industry's experienced veterans will bestow their knowledge and expertise on managing specialty pharmacy data.