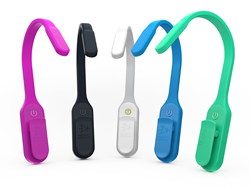 Santa Barbara, CA (PRWEB) October 16, 2014
Mighty Bright, designer and manufacturer of innovative personal LED lights, is thrilled to introduce their newest, most unique light yet – the Recharge LED Book Light. The Recharge LED Book Light ushers in a new era of book lights, changing the way book lovers everywhere read. With its slim, flexible body finely crafted of matte silicone, Recharge fluidly bends in any direction to cast a bright white beam of light wherever needed. Its two LEDs provide ample brightness, while its petite clip firmly grasps book pages. The eco-friendly Recharge has a 16 hour battery life and charges in a single hour via an included micro USB cable. One or two of its durable LEDs can be used to customize its light output. The revolutionary Recharge is available at http://www.mightybright.com, an online shopping destination for LED lights for everyday life, and at fine bookstores worldwide.
Recharge features:

Two energy-efficient LEDs for high and low light output
100,000-hour lifetime LEDs –no replacement necessary
Lumen output: 8 / 5 (high/low)
Battery life: 10 / 16 hours (high/low)
Constructed of flexible and durable Silicone and ABS plastic
Dual flex neck bends in virtually every direction
Sturdy clip firmly affixes to pages
Low battery life indicator light (10%)
Micro USB recharging cable included
Full recharging time: 1 hour
Available in five trendy colors: Black, Blue, Purple, Green, and White
About Mighty Bright
Mighty Bright's uniquely designed, eco-friendly personal lights are portable and affordable. Perfect for reading, camping, performing music, or crafting, Mighty Bright lights are indispensable and convenient. Based in Santa Barbara, CA since 1985, Mighty Bright blends ease of use with impressive functionality and durability. Since LEDs provide hundreds of thousands of hours of light, you can feel good about your earth friendly purchase. For more information, contact Mighty Bright: sales(at)mightybright(dot)com, 800.922.3233 or visit http://www.mightybright.com.