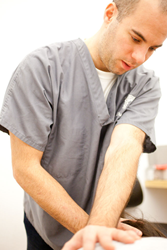 Most people don't realize that bad footwear and bad movement mechanics don't only result in sore or tired feet and ankles. Dysfunction can run up the kinetic chain and cause knee, hip and back pain.
New York, NY (PRWEB) October 15, 2014
Dr. Steven Shoshany, a chiropractor in New York City, recently started offering custom made orthotics, using 3D printing technology. Dr. Steven Shoshany has been an advocate for the application of new techniques and technologies to the treatment of musculoskeletal pain and injuries. He has been helping bring many advanced, and proven technologies usually used to treat high level athletes, to every day people. He has been a practicing chiropractor in NYC for over 17 years. SOLS is a pioneer of mass-manufacturing technology applied to custom made products. With their fully digital process of 3D printing custom made orthotics, they are among the first to bring this revolutionary technology to the general population.
Dr. Shoshany is a chiropractor who prides himself on working alongside many other specialists to provide a patient centered, team based approach to quickly and effectively get patients up and moving, pain free. His team includes medical doctors, physical therapists, and massage therapists. He also treats many local competitive athletes, helping them overcome injuries and stay ahead of their competition. "I like to have a wide variety of techniques at my disposal because not all my patients are the same. They have different lifestyles, and different ideas of health and healing. They are as diverse as this city, and there are no cookie cutter approaches to treating such a demanding, and active population," said Dr. Shoshany. From CrossFit competitors, ultra marathon thrill seekers, and runners, Dr. Shoshany has seen almost every injury anyone can encounter. Through finding and treating the root cause, he implements individually tailored plans resulting in long term pain relief.
Walking and running is an afterthought for anyone living in NYC. The most used form of transportation is also one of the major causes for musculoskeletal problems from the ankles all the way up to the lower back. Dr. Shoshany says, "Most people don't realize that bad footwear and bad movement mechanics don't only result in sore or tired feet and ankles. Dysfunction can run up the kinetic chain and cause knee, hip and back pain." In a busy city, it is very easy for someone to get hurt, and through compounding injuries they may not be able to recover for long periods of time. This often results in prolonged pain and an increase in the likelihood of chronic, repetitive pain. Dr. Shoshany maintains that an overall structural integrity of the body's movement system is central to optimal health and healing. Proper footwear and walking mechanics are essential to staying active and healthy.
SOLS was founded in July 2013 with a mission to bring fast, and highly custom made orthotics to everyone. They achieve this through the use of digital mapping software and 3D printing. SOLS presents a unique opportunity and solution to medical professionals. Using SOLS unique technology, providers are able to scan a patient's foot and place an order without the need for paperwork or casting. This order goes into a 100% digital process to accurately and repeatedly determine the individual's foot size, structure and automatically generates a SOL according to the doctor's prescription as well as for the patient's weight and activity level. SOLS combines innovative materials with the expert biomechanical knowledge within our digital system to create a dynamic and individual insole for a scientific fit that supports the foot for correct posture and a pain-free step.
Dr. Steven Shoshany is excited to offer this promising new technology to his NYC patients. For more information about Dr. Shoshany, custom orthotics, chiropractic, or any other treatments and techniques offered by Dr. Steven Shoshany, visit http://www.drshoshany.com.
About SOLS
Founded in July 2013, SOLS Systems is a leader in the 3D printing space, bringing one of the world's first applications of 3D printing to the consumer market. Their first product, SOLS, brings 3D printing to footwear through dynamic orthotics with the mission to change the way the world walks. SOLS is headquartered in NYC where all SOLS products are made.
For more information please visit http://www.sols.com