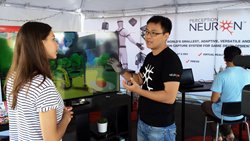 The game developer community is central to the way we think about and develop our products.
Culver City (PRWEB) October 15, 2014
The team behind Perception Neuron, the world's smallest, most adaptive, versatile and affordable motion capture system were at the IndieCade Festival 2014 from October 9th-12th in Culver City, California where they engaged with game developers from around the world, as well as the local tech and film community, to present their revolutionary MoCap system and show off their newest games.
Not long after becoming Kickstarter's most funded campaign ever from China in September— raising over $570,000—Noitom, the Beijing-based company that developed Perception Neuron, has moved onto the production phase and in the meantime, are taking every opportunity to meet with their backers, everyday consumers and tech fans and the film and game developer communities who want to learn more about working with the system.
"The game developer community is central to the way we think about and develop our products," says Dr. Tristan Dai, developer and co-founder of Noitom. "We were very excited to be able to come to IndieCade to engage them in developing virtual reality projects that would make full use of the immersive capabilities of Perception Neuron."
During the IndieXchange Pre-Event Developer Summit on Thursday, October 9th, Dr. Dai and Noitom's Head of Game Development, Tobias Baumann, were able to speak directly with some of L.A.'s tech elite from the surrounding Culver City and Venice Beach film studios and Silicon Valley to answer questions about Perception Neuron.
On, Friday, October 10th, Perception Neuron hosted a series of "experience tables" to allow attendees of the show to get a "hands-on" feel of the system by playing games created on UNITY and incorporating their 9-axis sensor glove for hand interaction. The following day provided an even more unique experience for some as one of the tables was set up for a simulation that let users feel as though they were flying through the air like Superman using Oculus Rift. Players were transported to an island where they had full range of freedom to soar up in the sky, and to fly through various obstacles set up around the island.
The festival's final day on Sunday provided attendees with further insight as to what the capabilities of Perception Neuron could be in the future as Dr. Dai demonstrated full-body motion capture using Perception Neuron's sister product, Perception Legacy. Attendees were able to see how easily game interaction and motion capture could be set up and used.
"We are now full-swing into our production phase and this will be our primary focus over the next few months," says Dr. Dai. "We are very excited about releasing our final product and getting the system out to all of our backers and to everyone who has given us their support in the four months since we launched. We're looking forward to finally making Perception Neuron available to the gaming and developer communities and film and visual effects studios."
For those who missed the Perception Neuron Kickstarter campaign, they will be able to pre-order the system on http://www.perceptionmocap.com.
About Noitom Ltd.
Founded in 2011, Noitom Ltd. works with a team of dedicated engineers who develop world-class motion capture technology for consumer and industrial markets through the integration of MEMS sensors, pattern recognition, human kinetics and wireless transmission. Noitom is an international leader in innovative technology for use in animation, film, medical applications, robotics and gaming. Noitom is headquartered in Beijing with affiliate offices in Shenzhen. For further information about Noitom and its services, please visit, http://www.noitom.com. For general inquiries, please email, info(at)noitom(dot)com.