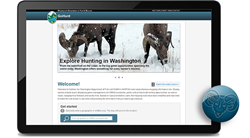 Richmond, VA (PRWEB) October 14, 2014
Timmons Group is pleased to announce that the Washington Department of Fish and Wildlife (WADFW) launched its web application, GoHunt, as a statewide interactive tool to access hunting information and harvest statistics. GoHunt is a valuable resource for hunters to reference while planning a trip and while out in the wilderness. Timmons Group partnered with WADFW staff to provide design and development requirements for the new web and mobile-friendly application.
"GoHunt enhances the amount of data hunters can utilize to gain the most out of their hunting experience," said Brian Calkins, Section Manager of Washington Department of Fish and Wildlife. "This application bridges the gap between technology and the outdoor experience."
With this easily navigable application, hunters are able to access specific game information through themed maps that focus specific content. Users can view information in the encompassing "All Layers" map theme or the other theme options include Big Game, Waterfowl, and Small Game.
Features of this application include:

Interactive Map – specific information can be accessed by clicking on GIS layers
What's Nearby – users are able to find production areas and private hunting lands within a customizable buffer
Printed Maps – users are able to export areas of interest to a printable PDF file
Map Themes – users can focus their experience on their topic of interest
Search – users can search for map content
Zoom to My Location – user can zoom to their area by entering GPS coordinates
"Timmons Group is committed to helping our natural resource management partners provide enhanced services to their clients," states Lowell Ballard, Director of Geospatial Solutions for Timmons Group. WADFW has taken invaluable information from the back-office and now makes it available to all citizens of Washington and visitors who partake in their vast array of natural resources and outdoor opportunities."
About Timmons Group
Timmons Group is a leading provider of geospatial, information architecture and engineering services focusing on developing intuitive, enterprise geospatial and GIS web applications, highly-usable, cross-device mobile applications, and integrated, geospatially-enabled enterprise solutions. Timmons Group develops solutions across multiple platforms, including JavaScript, HTML5, and native mobile operating systems. Timmons Group is a privately held ENR 500 company and maintains a strong business partner relationship with Esri. Timmons Group has been a recipient of both the Esri Business Partner of the Year award and the Esri Foundation Partner of the Year award. For more information, visit http://www.timmonsgis.com.