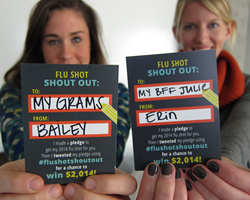 This is the latest demonstration of our ability to personalize and customize health communications in the greatest possible way.
Chicago, IL (PRWEB) October 15, 2014
Leader in health care communications Evive Health has gone all social for this year's flu season.
Fusing tried-and-tested principles of social psychology with the ubiquity of social media, the Chicago-based health engagement specialist is helping people across 50 states tackle the seasonal bug in a new way, by asking them to "pledge" their flu shot online to a loved one — and win more than $2,000 in the process.
"Experiments show that if someone commits to something, orally or in writing, they are far more likely to go ahead and do it," says Jennifer Lindner, director of consumer content at Evive Health. "On top of this, the psychological principle of reciprocity means the 'pledgee' could be inclined to return the favor and get their flu shot too."
Participants are encouraged to pledge their flu shot to someone they care about and Tweet it using the hashtag "#flushotshoutout." As an extra incentive, one lucky Tweeter will win $2,014 in a random drawing the day after Thanksgiving.
"Research suggests people have an 'optimism bias,'" adds Lindner. "We naturally think, 'It won't affect me, I'll be alright.' By shifting the perspective to 'self-as-carrier,' and drawing the attention to loved ones who seem more likely to get sick, people will feel more compelled to get the shot.
"We're embracing social media for this communication because it's an appropriate match for something like the flu virus, which can affect the whole of the U.S. on a very public level. Evive's specialty is picking and choosing the best communication method for specific screenings, tests, or in this case, vaccinations — this is the latest demonstration of our ability to personalize and customize health communications in the greatest possible way."
As well as the social media campaign, Evive sent customized reminders directing more than a million subscribers to their employers' local, on-site flu shot clinics. The mailings include straightforward, individualized details regarding the most convenient way each subscriber can contact their personal physician and schedule a flu shot.
At the end of the contest, Evive hopes to look at the Tweets, hashtag and online activity to research how similar techniques can be used in the future.
According to the National Business Group on Health, flu costs the U.S. approximately $10.4 billion each year in direct costs for hospitalizations and outpatient visits for adults. It says the flu is responsible for 200 million days of diminished productivity, 100 million days of bed disability and 75 million days of work absence, translating to five to six days of symptoms and between a half day and five days of work missed in each episode.
Based in downtown Chicago, and founded in 2007, Evive Health is the industry innovator in health care engagement. Through personalized, timely communications, Evive Health works with some of the world's largest companies to increase employee adherence, health and wellness, and reduce costs.
Since its inception, Evive has helped engage more than 7 million people across 50 states using advanced analytics and rules engines to deliver personalized messages by direct or digital media.
For more information about the #flushotshoutout campaign visit Evive Health's Facebook page at facebook.com/evivehealth or follow Evive's Twitter handle @evivehealth. For information about Evive Health visit http://www.evivehealth.com.