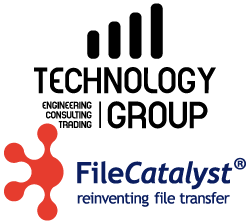 ...having FileCatalyst join us at the CAPER Show is a testament to their dedication
Ottawa, Canada (PRWEB) October 23, 2014
Unlimi-Tech Software, Inc., an Emmy® award winning pioneer in managed file transfers and the creator of FileCatalyst, a world leading accelerated file transfer solution, is pleased to announce a new channel distribution partnership with Argentina-based telecommunications, television, and data transmission company Technology Group S.R.L.
Established in 1994, Technology Group is a private company run by a team of professionals with extensive experience, including 12 years integrating satellite systems. Focusing on the field of signal transport, Technology Group provides the latest technologies in the field of video signal processing and audio processing, as well as the equipment involved in transporting them.
Technology Group has partnered with FileCatalyst to provide the latest technology to their clients looking to increase the speed of file transfers without compromising reliability or security. The FileCatalyst platform is immune to packet loss and latency while transferring large video and audio files over unreliable bandwidth connections or vast geographical distances, a necessity for Technology Group's customers who often collaborate globally. While traditional file transfer methods like email and FTP are unable to keep up with increasingly larger file sizes, FileCatalyst ensures the transfer of any file, of any size, at speeds of up to 10 Gbps.
Technology Group will be attending the CAPER Show in Buenos Aires, Argentina, from October 29-31 in booth C11. Joining Technology Group will be FileCatalyst co-founder and President John Tkaczewski, who will be on hand throughout the show providing demonstrations of the FileCatalyst platform, including FileCatalyst TransferAgent, the company's newest product. During the three days of the show, Technology Group, in conjunction with FileCatalyst, will be raffling off an AppleTV to those who stop by the booth.
"We're excited to announce this partnership," said Alejandro Russo, President at Technology Group. "FileCatalyst offers an accelerated, reliable, and secure file transfer solution that will benefit our customers. Additionally, having FileCatalyst join us at the CAPER Show is a testament to their dedication to this region, our network, and end users."
"We're pleased to be partnering with Technology Group and introducing their customers to the benefits of FileCatalyst's accelerated file transfer solutions," said Alan Atkinson, Unlimi-Tech's Vice President of Business Development. "Their reputation for providing quality solutions made this partnership decision an easy one. When they welcomed us to join them at CAPER, we were flattered and saw it as an opportunity to directly interact with Technology Group's end users."
About Unlimi-Tech Software, Inc.
Located in Ottawa, Canada, Unlimi-Tech, an award winning pioneer in managed file transfers, is the creator of FileCatalyst, a world leading accelerated file transfer solution. Founded in 2000, the company has more than one thousand customers in media & entertainment, energy & mining, gaming, and printing, including many Fortune 500 companies as well as military and government organizations. FileCatalyst is a software platform designed to accelerate and manage file transfers securely and reliably. FileCatalyst is immune to the effects that latency and packet loss have on traditional file transfer methods like FTP, HTTP, or CIFS. Global organizations use FileCatalyst to solve issues related to file transfer, including content distribution, file sharing, and offsite backups. To learn more visit http://www.filecatalyst.com or @FileCatalyst on Twitter.
About Technology Group
Located in Buenos Aires, Argentina, Technology Group has been on the forefront of providing available technology and solutions to the broadcast and telecom market since 1994. From heavy hardware solutions to the latest in smart software, Technology Group have shown their customers the path by relying on the best worldwide suppliers in each field. To learn more about Technology Group visit http://www.technology-group.com.ar or on Facebook.