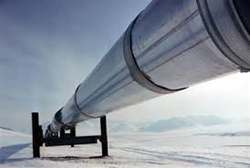 Increased regulation on discharge requirements has led to greater demand for environmentally friendly ways to perform tasks, such as maintenance and testing pipeline integrity
Coventry, RI (PRWEB) October 15, 2014
Neptune Benson, a leading manufacturer of commercial filtration systems, ETS-UV disinfection systems, and components, provides custom solutions for water used in pipeline testing. This ETS-UV compact skidded unit joins a host of sustainable products custom engineered for the oil and gas and petrochemical industries.
Increased regulation on discharge requirements has led to greater demand for environmentally friendly ways to perform tasks, such as maintenance and testing for pipeline integrity in the oil and gas industry. This testing is done using treated water to pressurize the pipeline to ensure its construction meets design specifications. UV light is a simple and very powerful method for disinfecting corrosion-inducing microorganisms present in the water, without adding residual chemicals to the testing process.
Neptune Benson provided two skid mounted UV systems in parallel, each with the capacity to disinfect 600 gallons of water per minute. The stainless steel equipment was specially designed to provide protection from the harsh conditions of the Alaskan tundra. This particular testing project took place near Prudhoe Bay – the North Slope Borough of Alaska which is one of the most remote locations of the United States.
Neptune Benson's ETS-UV leads the world in the design and application of UV technology into this demanding environment. A number of modifications are made to standard UV systems to strengthen the units and ensure that they perform reliably under harsh oilfield site conditions. Wipers are always fitted to prevent fouling, and vibration and shock are handled using a variety of innovative design features. ETS has both trailer mounted units and self-contained units (containerized or skidded) in operation globally for over 5 years.
UV system benefits include:
1. Environmentally friendly alternative to chemical biocides
2. Small footprint with robust design
3. Easy, safe and reliable to operate
4. Data logging capabilities
5. Engineered for a wide variety of operating conditions (minus 680 F – plus 1220F possible)
About Neptune Benson
Since 1956 Neptune Benson has been synonymous with water filtration and disinfection serving the aquatics, industrial and municipal markets. Featuring award-winning brands such as the Defender® regenerative media filter, ETS-UV ultraviolet disinfection system and Legacy™ Sand Filters. With advanced technology and a wealth of experience, Neptune Benson has the expertise to provide effective and cost efficient solutions for a broad range of industry needs. Neptune Benson also offers the AEGIS® anti-entrapment shield, Dominion™ butterfly valves, Guardian™ strainers, greendrive™VFD systems, as well as all Lawson Aquatics accessory products.
See our website for more information: http://www.neptunebenson.com http://www.ets-uv.com http://www.lawsonaquatics.com