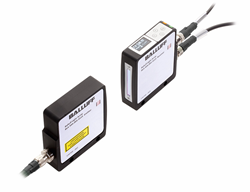 Florence, KY (PRWEB) October 16, 2014
If there is a need to identify different objects during the manufacturing process, packing, or quality control, the new BLA high resolution light array from Balluff is the ideal solution. This sensor identifies, compares or sorts objects based on minimal size or height differences.
The intuitive nature of the device makes it easy to use. It consists of a powerful red-light laser and a high-resolution CCD receiver and operates completely independently - without any other accessories such as a controller, PC or special software. The Balluff BLA light array has a range of up to 2 m and resolution of 0.01 mm.
The multifunctional device offers numerous modes of measurement such as object diameter, object position, gap width, gap position, edge position, etc. In addition, the user can use intuitive, on-device buttons to teach-in up to six different objects and blank out disruptive objects in the measuring field (blanking). Parallel use of the different measuring modes is also possible: e.g., checking the diameter of the object at the same time as determining the position of the object.
The BLA is very versatile, even in particularly harsh conditions, thanks to its robust metal housing:

High-precision position monitoring and detection
Quick and easy sorting of parts according to size and/or diameter
Quality assurance and monitoring, e.g. of heights of objects, gap sizes, etc.
Precise detection of web edges, even with semitransparent materials
Learn more about the Balluff BLA light array sensor on our website.
See our BLA light array in action in our YouTube video
Download high resolution images on Flickr.