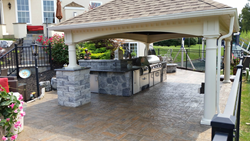 EWBN is having an outdoor open house on Saturday, October 18th.
Leola, PA (PRWEB) October 14, 2014
Eagle Wings Business Network has over 30 years of specialized landscaping and construction experience. Reuben Stoltzfus, owner of EWBN, along with his family have dedicated their careers to building any style indoor and outdoor living structures and facilities. Customers have stated they are the best in the industry. EWBN will help unlock the potential of the client's property by transforming regular spaces into fun and exciting places to relax and unwind with family and friends.
EWBN is having an outdoor open house on Saturday, October 18th, from 10 AM until 4 PM at the outdoor display in Gap, Pa located on the North side of route 30 and route 41. This event is located at 5303 Lincoln Highway, Gap PA 17527.
To celebrate this event, EWBN, is having a special on selective patio pavers, wall products, decking and fencing. The showroom will be opened and EWBN will be serving free beverages and a light meal. During the week, appointments can be made by phone to take advantage of this great offer. Some items will be up to 50% off on selected paver and retaining wall products. Also on sale will be selected decking and fencing material. See them for the details and installation.
EWBN specializes in decks, patios, roofs over decks and patios, retaining walls, pavilions, pergolas, outdoor kitchens and more. You can reach them at 717-556-0741 or visit online at http://www.EWBN.net. They are located at 179 west Main Street, Leola, Pa. 17540.
Media Contact
Reuben Stoltzfus
717-556-0741
info(at)ewbn(dot)net