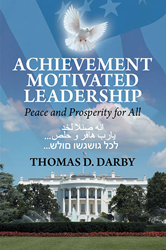 (PRWEB) October 23, 2014
Former President Paul Harvey Collins tells his life story in this intriguing political novel, "Achievement Motivated Leadership: Peace and Prosperity for All" about totally reforming American government.
The ex-president narrates the story of his career to a biographer, beginning with his interest in government that began in high school. When he and a friend take part in a civics class trip to the state legislature, the two are disgusted with what they see. They both decide to enter politics to improve efficiency! During their careers, they reduce the number and size of local and state governments, merging departments to save money.
Removing state House of Representatives reduces costs while increasing effectiveness. Collins then improves the efficiency of the executive branch, introducing a unicameral federal government. The former president explains how senators are now elected from near equal population senate districts, making the Senate the most powerful branch of government, and the president serving at the pleasure of the Senate. Peace and prosperity follow in this fictional scenario that could provide a roadmap to a better tomorrow!
Watch the video at: http://www.youtube.com/watch?v=8DPeCnBZtL4&feature=youtu.be
About the Author
Thomas D. Darby grew up in Charleston, South Carolina. He is a distinguished professor emeritus at the School of Medicine, University of South Carolina, and distinguished research professor, Health Sciences University of Louisville. He was professor and chairman of the Department of Pharmacology and Toxicology in Louisville, and associate dean for academic affairs in Columbia, South Carolina. He has written 67 papers for scientific journals and four books about the need for government change.
Book Details
Genre: Fiction / Political
Author: Thomas D. Darby
Format: Paperback, 212 pages
Pub date: September 2014
"ACHIEVEMENT MOTIVATED LEADERSHIP: PEACE AND PROSPERITY FOR ALL" (ISBN: 978-1-63135-277-5) is now available for $14.50 and can be ordered through the publisher's website:
http://sbprabooks.com/ThomasDDarby, Amazon, or the website of Barnes & Noble.
WHOLESALERS: This book is distributed by Ingram Books and other wholesale distributors. Contact your representative with the ISBN for purchase. Wholesale purchase for retailers, universities, libraries, and other organizations is also available through the publisher; please email bookorder(at)sbpra(dot)net.
Strategic Book Publishing and Rights Co, LLC