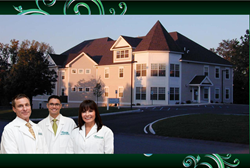 Albany. NY (PRWEB) October 20, 2014
Dr. Edwin F. Williams III, one of New York's most respected plastic surgeons and President-elect of the American Academy of Facial Plastic and Reconstructive Surgery, has been featured in an October 7, 2014 About.com Health article about the growing fad of facial yoga.
In the article entitled "Facial Exercises to Look Younger," About.com examines the growing popularity of Yoga for the face, which offers the promise of removing wrinkles and sagging skin by reviving and refreshing the face through daily exercises that tone facial muscles. Supporters of facial yoga akin the practice to exercises that tone and build stronger biceps or abdominal muscles. In fact, facial yoga has become so popular the article said there are numerous new books and videos about the subject slated to hit the market.
Dr. Williams is asked the question in the article if facial yoga is the same concept as exercising your abdominal muscles or biceps. He answers by saying it is not an accurate comparison because skeletal muscles are different from facial muscles.
"Muscles like those in the bicep are attached on either end to bone, and if you work that muscle it will develop some tone to it," Dr. Williams said in the article. "But facial muscles are attached to soft tissue. You might be able to create a little more tone in that muscle, but that won't tighten your face."
Furthermore, Dr. Williams explains in the article that recent evidence shows muscle activity is actually a contributing factor to creating facial wrinkles. For example, Dr. Williams said studies on stroke patients found the skin on the side of the face they could not move was actually smoother than the side that they could move.
The About.com website is one of the most widely read websites on the Internet with 85 million readers. The site's health section called About Health has a readership of 34 million people and explores a variety of health related topics on a daily basis including dentistry, alternative medicine, healthy living, preventative medicine, dieting and fertility. About.com is the largest source for expert content on the Internet that helps readers answer questions, solve problems, learn something new or find inspiration.
Dr. Williams is double board certified by the American Board of Facial Plastic and Reconstructive Surgery and the American Board of Otolaryngology. He is also a Fellow of the American College of Surgeons, a Diplomat of the National Board of Medical Examiners, a member of Alpha Omega Alpha Medical Honor Society and a Fellow of the American Academy of Facial Plastic and Reconstructive Surgery and the American Academy of Otolaryngology - Head and Neck Surgery.
He received his Bachelor of Science from Cornell University and his Doctor of Medicine degree from Buffalo School of Medicine. During his residency training in Otolaryngology in Syracuse, Dr. Williams developed a strong interest in plastic surgery of the face, head and neck and ultimately pursued a fellowship through the American Academy of Facial and Plastic Reconstructing Surgery at the University of Illinois in Chicago.
Dr. Williams is actively involved in teaching facial plastic and reconstruction surgery to the residents of the Albany Medical Center and as former Chief of the Section of Facial and Plastic Reconstruction Surgery at Albany Medical Center where he recently received an academic appointment of Clinical Professor, Department of Surgery. He also maintains an active lecturing schedule speaking at various medical associations, as well as having authored numerous chapters and articles in major textbooks and journals.
Dr. Williams' practice, Williams Center Plastic Surgery Specialists, is one of the premier plastic surgery clinics in the northeast with offices in Albany and Manhattan. More information about Dr. Williams and his practice is available at http://www.williamsfacialsurgery.com. Dr. Williams' About.com Health article can be found at http://longevity.about.com/od/lifelongfitness/fl/Facial-Exercises-to-Look-Younger.htm.
Contact:
Williams Center for Plastic Surgery
Dr. Edwin F. Williams III
1072 Troy-Schenectady Road
Latham NY 12110
(518) 786-7000