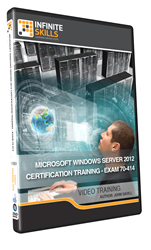 Learn Microsoft Windows Server 2012 Certification Training - Exam 70-414 at your own speed
(PRWEB) October 15, 2014
Software training firm Infinite Skills Inc. this week released its "Microsoft Windows Server 2012 Certification Training - Exam 70-414 Tutorial," an advanced level course covering the second of two exams required for the Microsoft Certified Solutions Expert certification.
The MCSE is a globally recognized industry standard for IT professionals. The certification validates competencies for running efficient, modern data centers, with expertise in identity management, systems management, virtualization, storage, and networking.
Infinite Skills' "Microsoft Windows Server 2012 Certification Training - Exam 70-414" covers the final test for the MCSE designation, teaching the skills and technical knowledge implementing an advanced-level server infrastructure.
The course is also offered as a bundle with the "Microsoft Windows Server 2012 Certification - Exam 70-413 Tutorial," covering the first test for the MCSE designation, at a discounted rate.
Microsoft Windows Server 2012 Certification - Exam 70-414 Tutorial - Streaming
Course author John Savill has been training in Windows technology for more than twenty years. He is an 11-time Microsoft MVP, a senior contributor to Windows IT Pro Magazine, and a regular speaker at major technology education events such as Windows Connections. In all his work, Savill explains, his focus has been on communicating complex technological concepts to large audiences in an easy to understand manner.
Savill begins with an overview of managing an enterprise data system, explaining configurations involving the system center and licensing, access control, self-service portals, and other protocols, before outlining the process of implementing a monitoring solution.
Next, the course focuses on implementing custom solutions for specific organizations. Savill discusses the processes for implementing an update strategy, designing a configuration solution, a virtualization migration solution, and a network management solution.
The course continues exploring storage, failover clustering, and network load and balancing.
Concluding chapters cover continuity and disaster recovery solutions, active directory certificate services, active directory federation services, and active directory rights management services.
"This course emphasizes practical knowledge, teaching both technical knowledge and problem solving skills that allow you to effectively administer advanced features in a Windows Server 2012 network," Savill says.
"Once you have tried out various exercises and technologies, trying both graphical and powershell methods, students will understand the whole perspective of the technology and be able to pass the exam."
Free demo videos and a full list of course contents can be found on the "Microsoft Windows Server 2012 Certification - Exam 70-414 Tutorial" training page of the Infinite Skills website:
http://www.infiniteskills.com/training/microsoft-windows-server-2012-certification-training-exam-70-414.html
Infinite Skills offers its "Microsoft Windows Server 2012 Certification - Exam 70-414 Tutorial" either in DVD format or as a direct download from the company website at a retail price of $99.95. The course is also available as part of the company's streaming subscription service available at a rate of $25 per month. All Infinite Skills titles and formats are compatible with both Mac and Windows operating systems, and shipping is available around the globe. Infinite Skills tutorials are supported by project files which correspond to examples in the videos.
About Infinite Skills Inc.
A leader in the field of software training, Infinite Skills strives to offer the highest quality training available at an affordable cost. Infinite Skills tutorials are task-oriented instructional videos, teaching complex skills by providing hands-on examples, guiding users as they carry out critical objectives. Infinite Skills offers a comprehensive range of software titles available as DVDs, digital downloads, and iPad editions, keeping with company aim of delivering professional training to customers anywhere they want to learn.