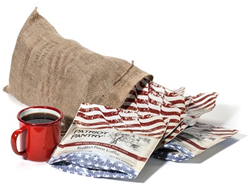 Salt Lake City, Utah (PRWEB) October 15, 2014
My Patriot Supply, a leading national emergency preparedness company, announced the launch of their newest long-term survival product, Franklin's Finest Coffee. This is the first coffee of its kind on the market – freeze dried fresh from farmers to preserve the taste for up to 25 years.
"We're excited about Franklin's Finest, not only is it the first of its kind on the market but who wouldn't want to have coffee in a survival situation? Our packages are the perfect size for individuals, families or to barter or trade with," said My Patriot Supply founder, Matt Redhawk. "Our team works tirelessly to bring new products to the market that we know people want and will use. Coffee is one of those items that people were missing from their stockpiles and is invaluable as a barter item in a crisis."
Long-term survival coffee is different than the average coffee you see on the shelves, the unique manufacturing process ensures freshness and taste for up to 25 years. Franklin's Finest is packaged in 60 serving pouches. For those who are looking to be truly self-reliant and independent but still need their coffee fix, Franklin's Finest is the ultimate solution.
Visit http://www.mypatriotsupply.com/franklinsfinest or call 866.229.0927 to speak with a preparedness advisor.
About My Patriot Supply
My Patriot Supply was formed in 2008 and is now one of the nation's leading suppliers of long-term survival products. The company's employees believe in and practice preparedness on a daily basis. My Patriot Supply features long-term food storage, heirloom survival seeds, a variety of water filtration products and other items necessary to short or long-term survival. The company is focused on bringing innovative and revolutionary survival products to the market at affordable prices.