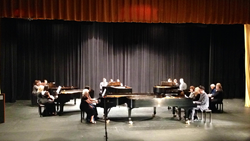 Thibodaux, LA (PRWEB) October 14, 2014
A Monday night sellout? The Mary M. Danos Theater was near capacity on Monday, September 15, 2014 for the Seventh Annual Monster Piano Concert which was presented by the Nicholls State University Foundation and the Nicholls Department of Music. Doors opened at 6:45 p.m., and the performance began at 7 p.m. Light hors d'oeuvres and an open bar were available for patrons during intermission.
This year's concert featured 37 performers — including Nicholls faculty, alumni, friends of the university, and local high school students — performing on seven of the Department of Music's Steinway grand pianos. Dr. Luciana Soares, Professor of Piano at Nicholls State, was largely responsible for coordinating the music and heavy practice schedules required to succeed with a concert of this scope.
The Nicholls Department of Music is the only public music school in the state of Louisiana that has earned the designation of being an "All-Steinway School" and exclusively uses elite Steinway pianos for performances and music education. The Monster Concert serves as a major fund raiser for piano maintenance and scholarships. Through the past 7 years, it has engaged the students, staff and community in the All-Steinway School experience.
Steve Kinchen, one of the performers and co-owner of South Louisiana's premier Steinway & Sons dealer, Hall Piano Company, said, "This year's highlight for me was to see the number of High School age students from the Nicholls Academy that participated. The Academy serves as a feeder program for college prep. What an opportunity for these young musicians to experience this high level of concert performance!"
"While the music was certainly as entertaining as it has been in the past, the evening was also memorable for the university," said Dr. David Boudreaux, executive director of the Nicholls Foundation. "Sometime after the fall semester 2014 concludes, the university will close down the theater to begin the long-awaited renovation project. When we reopen the new theater, we will have a state-of-the art venue in which we can all take pride."
For additional information about the Nicholls State Monster Concert, contact Emily McWilliams at emilym(at)hallpiano(dot)com or call 504.733.TUNE.