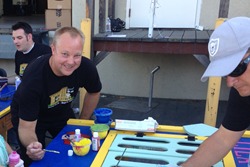 "This project is part of our Giving Back initiative and our staff wholeheartedly embraces this opportunity to provide support for the Habitat for Humanity mission and engage with local family organizations." - Mike Thompson, President & CEO, Groupware
Campbell, CA (PRWEB) October 15, 2014
Groupware Technology, Inc., a leading information technology solution provider, today announced it will host the third annual Habitat for Humanity East Bay/Silicon Valley (EB/SV) Playhouse Build at its headquarters in Campbell, CA on Friday, October 24th, 2014.
Six teams of employees from the company will team up with local charities to build six children's playhouses. The custom-designed playhouses will be donated to three local non-profits:

InnVision Shelter Network
Cystic Fibrosis Foundation – Northern California Chapter
South Bay Blue Star Moms
Groupware contributes a donation to Habitat for Humanity East Bay/Silicon Valley to cover the cost of materials and to support the construction of affordable housing through the Habitat for Humanity mission. The local Habitat for Humanity affiliate will provide the plans and raw materials for Groupware to build, design and decorate the playhouses.
Groupware employees will collaborate on all aspects of design and construction of the six playhouses, including painting, roof construction and fabrication of sides, windows, doors. Doug Radigan, Volunteer Programs Manager for Habitat EB/SV, stated, "We're looking forward to Groupware's third annual playhouse build event and appreciate their continued support of Habitat for Humanity East Bay/Silicon Valley."
"This project is part of our Giving Back initiative and our staff wholeheartedly embraces this opportunity to provide support for the Habitat for Humanity mission and engage with local family organizations." said Mike Thompson, President & CEO of Groupware Technology. "The level of impassioned creativity from our staff on these projects increases each year as they work to bring lasting enjoyment to the families and organizations who receive our playhouses."
What: Playhouse build project onsite at Groupware Technology headquarters. 100+ employees, customers and partners will build and design six different playhouses for local charities.
Where: Groupware Technology headquarters, 511 Division St, Campbell, CA 95008
When: Friday, October 24th, 12:30 pm – 5:00 pm. The receiving organizations and families will arrive at approximately 4:30 for to meet our teams and pick-up their completed houses.
###
About Groupware Technology
Groupware Technology, Inc. is a leading datacenter infrastructure solution provider that delivers technology solutions to customers to lower costs, increase agility and competitiveness. Our commitment to our customers is to help optimize their existing IT assets, evaluate and implement new technologies and provide a roadmap toward cloud-centric infrastructure models. Groupware specializes in compute, storage, virtualization, networking and security, enterprise software and cloud computing solutions. For more information, contact (408) 540-0090 or visit http://www.groupwaretechnology.com.
Follow us on:
Facebook: http://www.facebook.com/pages/Groupware-Technology-Inc/178627312150860
LinkedIn: http://www.linkedin.com/company/groupware-technology
About Habitat for Humanity East Bay/Silicon Valley
As an independent affiliate of Habitat for Humanity International, Habitat EB/SV brings people together to build homes, communities, and hope. They revitalize neighborhoods, build affordable and sustainable housing solutions, and empower families through successful homeownership. Since 1986, Habitat EB/SV has partnered with volunteers, the community, and qualified families with limited incomes to strengthen communities in Alameda, Contra Costa, and Santa Clara counties. For more information, please visit HabitatEBSV.org or call 866-450-4432.