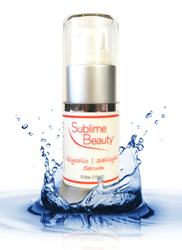 Both Glycolic and Salicylic Acids are well-known to help aging skin by lightly exfoliating, encouraging collagen and more.
St. Petersburg, FL (PRWEB) October 15, 2014
Sublime Beauty® specializes in serums, and the newest to join the family is the Glycolic | Salicylic Serum.
"Glycolic Acid is very well known to help aging skin by exfoliating lightly to make room for new cell production," says Kathy Heshelow, founder of Sublime Beauty® . "Glycolic Acid helps make skin look smoother and more youthful while helping it function better."
The new serum is available today and tomorrow only at 60% Off on Amazon. Use Coupon Code S5R5FFBX at checkout.
"We like to offer a deep discount at the launch to allow people to test the product and then follow up with a genuine review," says Heshelow. There is a 100% money-back guarantee on all Sublime Beauty® products, so buyers can feel comfortable purchasing.
The Glycolic | Salicylic Serum can be used 3 times weekly for aging, dry or normal skin to exfoliate, minimize pores and enliven skin. Those with oily skin can actually use the serum daily, as the ingredients are also foes to oil and bacteria.
Glycolic acid is an alpha-hydroxy, in high favor because it can penetrate the skin and encourage new collagen synthesis. Collagen loss with age is a major factor behind wrinkles, fine lines, thinning and sagging of skin.
Salicylic acid helps to loosen dead cells and debris, and it is also well known to unclog pores and help reduce oils. Use of the two together offers a powerful way to improve aging skin as well as oily skin.
This is a 2 day sale but supplies are limited.
ABOUT: Sublime Beauty® is a quality skincare company that focuses on products to "Age Younger". Ingredients help to boost collagen, hydrate, relax wrinkles and improve skin. A niche includes healthy Skin Brushes. The company webstore offers free standard shipping and a VIP Club. Sign up for Secret Sales on the site. Products also available on Amazon