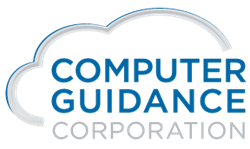 "eCMS and its integrated Enterprise Content Management applications allow us to collaborate in real time between our office and job site locations by sharing documents electronically and executing standardized workflows." Lisa August
Scottsdale, AZ (PRWEB) October 16, 2014
Computer Guidance Corporation, a leading developer of ERP software solutions for the construction industry, today announced that EE Cruz, a leading heavy highway contractor, is leveraging Computer Guidance Corporation's eCMS v.4.0 Construction ERP Platform and supporting Enterprise Content Management applications in support of its daily business operations.
Since the implementation of eCMS v.4.0 ERP release, the contractor has placed continuous emphasis on improving its daily operations with standardized and automated business processes. Computer Guidance Corporation's Enterprise Content Management application suite including data collection, document imaging and workflow has helped EE Cruz gain notable efficiencies and productivity in enterprise-wide communication and daily transaction processing. eCMS imaging and workflow applications have streamlined the company's Accounts Payable processing while provided integrated imaging and workflow capability for the company's payroll, human resources, equipment, subcontract, billing, purchasing and account reconciliation information management needs.
"eCMS and its integrated Enterprise Content Management applications allow us to collaborate in real time between our office and job site locations by sharing documents electronically and executing standardized workflows," stated Lisa August, Accounts Payable Manager, EE Cruz. "We have significantly reduced the amount of lost information, delays in processing invoices and payments and manual data entry."
"Our Enterprise Content Management and Business Intelligence solutions improve the management of unstructured information and respond to increasing needs of organizational collaboration and communication," said Mike Bihlmeier, President, Computer Guidance Corporation. "At Computer Guidance, our product development effort continues to focus around delivering data to our customers when, where and how they need it so they can run smarter businesses."
To hear more about how EE Cruz is leveraging their ERP platform and other integrated applications for their business needs, join a complimentary webinar offered by the Associated General Contractors (AGC) of America on October 29, 2014 at 2:00 p.m. EST. To register for the webinar, visit http://www.computerguidance.com/webcasts.
About Computer Guidance Corporation
Computer Guidance is the software development expert for construction enterprise resource planning solutions. In business since 1981, Computer Guidance has provided its customers with construction financial and project management applications supported by industry-leading business intelligence and analytics applications and advanced productivity tools. Computer Guidance is a premier Business Partner of IBM Corporation, providing a solid technology foundation for both its cloud-based, hosted and on-premise solutions. Hundreds of commercial contractors have implemented Computer Guidance ERP achieving quantifiable benefits year after year. Many Computer Guidance customers are represented among the Engineering News-Record Top 50, 400 and 600 and the On-Site Top 40. Computer Guidance's construction software expertise has led the Associated General Contractors of America to select Computer Guidance's solutions as the ERP solution of choice for its members. eCMS has also been acknowledged by the CFMA IT Survey, ranking its job cost, accounting and payroll applications as the number one software for commercial contractors. In 2013, Computer Guidance received a silver Contractor's Choice award from Roads & Bridges magazine recognizing eCMS as one of the most widely implemented ERP solutions among its readership.
Computer Guidance Corporation became a member of JDM Technology Group in January 2014. JDM Technology Group is a global software business that is exclusively in Construction with 40,000 users served, in 40 countries and in 6 continents, employing 250 staff. JDM Technology Group's core business philosophy is long-term commitment to customer service, coupled with providing the best possible solutions to customers.
For additional information, visit http://www.computerguidance.com or call 888.361.4551.
###
eCMS is a registered trademark of Computer Guidance Corporation, member of the JDM Technology Group.