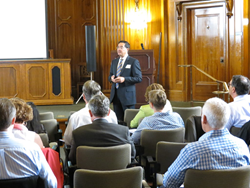 Find a process that cuts across many departments and use the experience to demonstrate how Lean makes things better for everyone.
Rocklin, CA (PRWEB) October 16, 2014
Thirty leaders from regional businesses and California State Departments learned how their organizations can apply a Lean Philosophy to increase efficiency at the "California Continuous Improvement Forum" on October 7 in Sacramento, sponsored by the Institute for Quality Public Services, Continuous Improvement Network, California Government Operations Agency and the Sierra College Center for Applied Competitive Technologies (CACT).
Megan Rainey, Executive Director, Institute for Quality Public Services, organized the Forum and was pleased that the cooperative tone of the day matched the cooperative nature of Continuous Improvement. "Problem solving via teamwork is paramount," said Rainey. "Due to unique format, every participant got a chance to engage with the experts in small group discussions. The resulting depth and breadth of knowledge was both inspirational and practical."
Rainey reported that the wide range of participants enhanced the experience. "There were representatives from CA Dept. of General Services, CA Air Resources Board, CalPERS, Dept. of Conservation, Board of Equalization, Dept. of Transportation, Government Operations Agency and Governor's Office for Business and Economic Development," said Rainey. "We also had people from Sierra College and Los Rios Community College District, as well as private companies: Rex Moore Electrical Contractors, Cooper Oates Air Conditioning, FAFCO, United Corporate Furnishings, Lundberg Family Farms and Valine Manufacturing Services."
Speaker Jeff Fuchs, Director, Maryland World Class Consortia, explained that Lean involves all employees in developing a culture that reduces waste and adds value for customers. "Lean can be described as 'everybody, everyday, systematically solving problems,'" said Fuchs. To get started, Fuchs recommended conducting a pilot project. "Find a process that cuts across many departments and use the experience to demonstrate how Lean makes things better for everyone."
Speakers showed how Lean has been applied to business and public agencies alike explained David Moore, President, Rex Moore Electrical Contractors. "Too often Lean is associated only with manufacturing and individuals think they can not apply continuous improvement to their work since they are not manufacturers," said Moore. "The Forum reinforced that Lean concepts can be used anywhere there are processes being performed, services provided or products being created. The round table discussions with experts were great and will help people get started or accelerate their lean journeys."
Participants were inspired by speaker Teresa Hay McMahon, Founder,Iowa Lean Consortium who has 25 years of government experience and saw incredible gains when agencies in Iowa embraced Lean. "The private sector came to the environmental agency and described the economic impact of an air quality permit process," said McMahon. "Business shared their success with Lean and offered to help us improve the process. The process was cut significantly and companies continued to work in partnership with the Iowa State agencies in spreading the methods and results of creating a Lean culture."
The California Government Operations Agency was one of the event sponsors because the State is looking for ways to modernize the processes of government, explained Stuart Drown, Deputy Secretary, Innovation & Accountability. "We were very interested to learn how agencies in Iowa successfully improved operations," said Drown. "During the forum, the small group discussions with businesses and other organizations on the lean journey were very valuable in suggesting how to start small and bring everybody on board."
Carol Pepper-Kittredge, Director, Sierra College CACT, who with the Continuous Improvement Network provides Lean training and coaching, saw the beginnings of new partnerships at the event. "The California CI Forum engaged high level decision makers within the State with presidents of businesses," said Pepper-Kittredge. "Whether they represented manufacturers or agencies, leaders realized that they could help each other as many of the issues are the same and the process of moving an organization's culture to embrace continuous improvement is similar."
About Sierra College CACT
Sierra College Center for Applied Competitive Technologies (CACT) is focused on Advanced Manufacturing and is funded through the Workforce and Economic Development program of the California Community College Chancellor's Office. Since 1992, the Sierra College CACT has provided customized employee training for organizations, manufacturers and technology businesses throughout Northern California. Additional information is available from Carol Pepper-Kittredge, CACT Director, Sierra College at 916-660-7801 or training(at)sierracollege.edu.