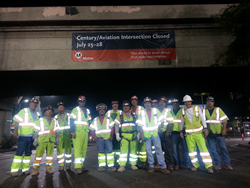 "This is what we do at Penhall Company. In just 57 hours the job was not only completed safely, but without any delays..." Tim McElroy
Anaheim, CA (PRWEB) October 15, 2014
Anaheim, CA | October 15, 2014 – Penhall Company, the market leader in concrete services announces the successful completion of the "Century Crunch" Project in Los Angeles. Once again Penhall Company was given a tight window to complete an enormous job in the City of Angels.
First there was "Carmageddon" and then its successor, "Jamzilla." Then earlier this year the locals had to brace themselves once again, but this time for the "Century Crunch".
Penhall Company was hired to demolish an obsolete railroad bridge at Century and Aviation boulevards in Los Angeles on July 25, clearing the site for a Crenshaw/LAX light rail line station.
Penhall Company's Regional Contracts Manager Rick Viefhaus said, "We at Penhall Company were thrilled to be chosen to work on this project. This job was long overdue in the city. The Century Bridge supported a long-standing railroad freight track that hasn't been used in years, but it was too narrow, old and unsafe to be integrated into the new rail system. Just as with Carmageddon getting the job done right was the only option."
Metro officials estimated 92,800 motorists travel through the Century/Aviation intersection on a daily basis so the deadline was crucial to flow of traffic. Demolition closed a portion of Century Boulevard, a major artery leading into LAX during one of the busiest travel times of the year and that made Penhall Company's task even more significant.
Tim McElroy, Penhall Company's Los Angeles Area Regional Safety Manager commented about the job. "This is what we do at Penhall Company. In just 57 hours the job was not only completed safely, but without any delays. This like so many jobs we do was executed with the precision necessary to be under a tight deadline and keep every worker safe. The team did an excellent job completing the Century Crunch project."
The Crenshaw/LAX train line will connect the Metro Green and Expo lines, with an anticipated opening in 2019.
To read more about Penhall Company Services and Projects go to http://www.penhall.com
About Penhall Company
Founded in 1957, Penhall Company is a market leader in concrete demolition, cutting, sawing, drilling, breaking, scanning and related concrete construction services. Serving customers nationwide with the newest fleet and equipment available, Penhall continually invests in emerging specialty technologies and capabilities. Spanning 41 locations in 18 states and Canada, Penhall employs 1,300 professionals who are dedicated to meticulously maintaining equipment and upholding the safest working environment.