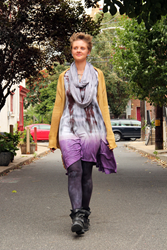 This show is put on by the Kiwanis Club Community. It is a refreshing change from other shows.." Says Litz
Morristown, NJ (PRWEB) October 16, 2014
Steel Pony, the sustainable women's wear brand out of Philadelphia is best known for their bohemian vibe & unique style. This Friday owners, Joanne Litz and Dennis Wolk are packing up their newest pieces for Fall 2014, along with one of a kind wearable art works and heading over to neighboring New Jersey for the Morristown Craft Market at the National Guard Armory in Morristown, NJ.
Steel Pony fans and newcomers will be able to peruse multiple racks of styles that are both available to buy online at http://www.steelpony.com or are being revealed for the first time to retail buyers at this event. Steel Pony owner Dennis Wolk has created a dressing room area as well as beautiful staging to showcase not only the garments but his line of exotic leather handbags: Journey Bags.
"Our clothing makes people happy. I hear it all the time, which is the best gift! People seek us out at this event and let us know that when they reach into their closets and pull out a Steel Pony piece - they feel happier. " Says Litz
The Morristown CraftMarket is one of the nation's longest running and most successful craft shows. The featured artists, selected in a juried competition, will display extraordinary, one-of-a-kind works in jewelry, ceramics, glass, leather, wood, metal, wearable fiber, and more. Many of the artists return annually to the Morristown CraftMarket bringing their one-of-a-kind, critically acclaimed pieces to a loyal and discerning audience drawn from the Northeast.
The show is run by the Kiwanis Club of Randolph Township. Literally thousands of volunteer hours are put into the planning and management of the CraftMarket. All net proceeds of the show benefit local charities.
Event Schedule
Oct 17-19th
Friday: 5pm-9pm, Saturday: 10am-6pm & Sunday 10am to 5pm
For more information, admission discount coupon and directions, go to the events official website: http://www.morristowncraftmarket.org