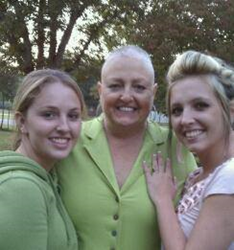 I'm feeling great! I could not have made this journey alone.
COLUMBIA, SC (PRWEB) October 15, 2014
Provost Academy South Carolina (PASC) recognizes Breast Cancer Awareness Month by celebrating one of its own staff members who is a survivor, Renee Olenick.
Renee was diagnosed with breast cancer in July 2011, a month before joining the PASC family. She and her family were devastated by the news because her aunt had lost the battle to the disease and she had four other relatives who had been diagnosed.
"This was horrible news for me and my family because of all of the history of cancer in my family," Renee said.
The diagnosis was Ductal Carcinoma In Situ or DCIS, a non-invasive cancer that is confined to the milk ducts.
Renee had a lumpectomy and initially was told that she would only have to receive seven weeks of radiation treatment. But during the testing of the removed tissue, doctors found a very small lump that was positive for a more aggressive type of breast cancer called HER2 cancer.
"Normally, a lump like that would not have been detected this early during a routine exam or mammogram," she said. "But if I hadn't gone in for that mammogram, we wouldn't have found it at all. I was lucky."
Renee then underwent more surgery to remove her lymph nodes, followed by a course of chemotherapy and seven weeks of radiation treatment.
But she remained committed to Provost along the way, PASC Executive Director Stephanie Cagle said.
"She has been a trooper since the beginning," Cagle said of Renee. "She is a strong woman and refused to quit. Renee continued to work even when she did not feel like it. Many days, she would send emails and reminders while at home sick."
Three years later the 50-year-old wife and mother of two daughters is now in remission and grateful to everyone, including her PASC family, who helped her overcome this life-changing episode.
"I'm feeling great!" she said. "I could not have made this journey alone. My husband, mom, sister brother, my girls and my PASC family pushed me to stay positive and fight!"
Being new to Provost at the time of her diagnosis, Renee, who works as the school's executive administrative assistant, said she was surprised and overwhelmed by the outpouring of support she received from people whom, only a month before, she didn't even know.
But the Provost staff bonded together to provide for her as much as she needed, Cagle said.
"It is funny how things work out in times when you think everything is impossible," she said. "I wasn't sure if this job would work out since I was starting chemo treatments at the same time. I had never met any of the staff, but they all became my second family and my cheerleaders during my fight!"
Cagle says Renee is a central part of the PASC family.
"Renee has always been the nurturing, mother figure in our office," she said. "She takes care of everyone else, first, always putting herself last. She has a heart of gold."
Renee continues to thank the doctors at Lexington Medical Center and her family and friends for helping her to remain strong. She said she also appreciates her colleagues at PASC who channeled the same energy they put into inspired learning into supporting her in her time of need.
"I'm grateful to so many people," Renee said. "We celebrated the Susan G. Komen 'Pink Out Day' and everyone rocked their pink in my honor. This made me realize that I not only had the support of my family, but also the support of all of my friends and coworkers at PASC."