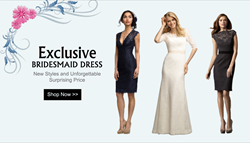 (PRWEB) October 15, 2014
For a once-in-a-life-time event, every woman desires and deserves to look beautiful. Vowslove.com, a great online supplier of wedding gowns and occasion dresses, has recently launched an exclusive line of 2015 wedding dresses, all of which are of the latest trendy design while at incredibly low prices.
"Vowslove.com aims to be the best bridal shop online that offers high quality wedding dresses with affordable price for brides-to-be worldwide." Said by the company CEO, "To keep the price budget-friendly doesn't mean you need to sacrifice the styles. All our dresses are made from top quality fabric and handmade by experienced & skillful workers. We also work hard on the customer service and international delivery. Each customer is promised to receive orders in time and get best service."
"We have developed styles of glamour and elegance while also injecting the right amount of fun to the 2015 wedding dress collection," the chief designer said, "from classic & classy lace sleeves, to breathtaking encrusted illusion backs, we're now making every girl's dream of having a stunning dress for her wedding day a reality. We invite all our customers to discover the impeccable styling and incomparable fit of our wedding dresses 2015."
Vowslove.com is striving to create the best dress options for customers who want to look fabulous without spending too much. From princess-like puffy wedding ball gowns to one-of-a-kind breathtaking dresses with shining beads and thigh-high slits, this collection is with the latest trends in high fashion, and bound to save wedding budgets.
About Vowslove.com
VowsLove is an online bridal shop that offers top quality dresses, with the most complete size range (1-Petite to 54W, plus custom made), the best prices and the largest variety of styles (from ultra contemporary to Country & Western).
Don't know where to begin? Check out newly-released wedding dresses here: http://www.vowslove.com/c_2015_Latest