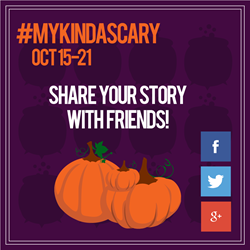 The #MyKindaScary contest allows Canadians to learn from other people's personal finance experiences.
Toronto, Canada (PRWEB) October 15, 2014
With the scary season fast approaching, LowestRates.ca today announced the launch of its #MyKindaScary Halloween contest.
Between today and October 21st, Canadians are invited to submit a short story describing a very scary personal finance experience they've had with a mortgage, credit card, or insurance product.
"We all have a scary personal finance story or two – maybe it's the mortgage penalty you had to pay, maybe it's a ridiculous fee your credit card company charged you or a time when you should have purchased insurance but didn't. The #MyKindaScary contest allows Canadians to learn from other people's personal finance experiences and reminds them they aren't alone," said Justin Thouin, CEO of Lowest Rates Inc.
On October 22nd, the team at LowestRates.ca will select their ten favourite stories and publish them on the LowestRates.ca blog. The author whose story picks up the most combined Facebook 'likes' and Twitter/Google+ 'shares' wins the grand prize – a FREE Personal Finance Consultation Session (worth $300) from Shannon Lee Simmons, Certified Financial Planner (CFP), Chartered Investment Manager (CIM), media personality and founder of the New School of Finance™, as well as a $100 gift card from Petro Canada.
All ten finalists selected by LowestRates.ca will receive a complimentary copy of personal finance expert and Toronto Star columnist Ellen Roseman's newest book: Fight Back: 81 Ways To Help You Save Money And Protect Yourself From Corporate Trickery.
To enter the #MyKindaScary contest, Canadians can simply head to the contest webpage, http://www.lowestrates.ca/landing/mykindascary, where they can register and submit their story anytime until 11:59 p.m. EST on October 21st. Entrants picked as finalists will be contacted by email on October 22nd.
To help win the grand prize, finalists should encourage their fans/friends/followers to visit the LowestRates.ca blog to 'like' and 'share' their story. 'Likes' and 'shares' will be counted until October 29th, 2014 at 11:59 p.m. EST, and the grand prize winner will be announced on October 31st – Halloween!
In the spirit of saving money and getting better at personal finance, entrants can also visit LowestRates.ca to check out the lowest rates on personal finance products in Canada, including fixed rate mortgages from 1.98% and variable rate mortgages from 2.14%. They can also browse LowestRates.ca's redesigned credit card section, with new comparison tools and all the top credit cards, as well as compare car insurance quotes from the leading insurance companies in Canada.
About Lowest Rates Inc.
Based in Toronto, Canada, and founded in 2012, Lowest Rates Inc., through its websites LowestRates.ca and LowestRates.com, provides a free independent online service that helps consumers compare personal financial products offered by North America's leading financial institutions. Lowest Rates Inc. helps people save time and money by allowing them to compare offers on mortgages, insurance and credit cards all in one place. Lowest Rates Inc. strives to become North America's leader in providing consumers with the necessary tools and unbiased information they need to quickly and conveniently find the right personal financial products for their unique needs.
Stay connected by following us:
Twitter (@lowestrates_ca)
Facebook (http://www.facebook/lowestrates)
Blog (http://www.lowestrates.ca/blog).
Contact Information
Cliff Ritter
Co-Founder & Chief Marketing Officer
info@lowestrates.com
Lowest Rates Inc