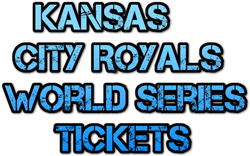 Kansas City, MO (PRWEB) October 14, 2014
Cheap Concert Tickets announces that baseball fans can get special savings when they add promo code SAVE on any 2014 Kansas City Royals World Series Tickets. The Royals are now ahead of the Orioles 3-0 in the American League Championship Series. If for any reason that the Royals end up not advancing to the World Series all ticket purchases will be immediately refunded.
Now that the Kansas City Royals have won the first three games of the American League Championship Series, the fact that the team could possibly reach their first World Series since 1985 has now dawned on their fans. The Royals, who finished the 2014 Major League Baseball season with an 89-73 record, reached the playoffs for the first time since winning the World Series. They won a spot in the AL Wild Card game and missed out on winning the AL Central by just one game behind the Detroit Tigers. The Royals defeated the Oakland Athletics in the Wild Card game before sweeping the team with the best record in the AL this season, the Los Angeles Angels.
If the Royals can get past the Baltimore Orioles, who finished in first place in the AL East, it will be one of the biggest stories seen in the world of sports in the past decade. While teams like the Tigers and Angels are built around some of the biggest names in baseball, the Royals have a roster filled with solid players that combine to create a great team.
From Billy Butler, Alex Gordon, Alcides Escobar, and Norichika Aoki leading the way offensively to Yordano Ventura, James Shields, Jason Vargas, and Jeremy Guthrie anchoring the starting rotation, the 2014 Royals were the epitome of a complete team. Add in stud closer Greg Holland, who finished the season with 44 saves and a 1.44 ERA, and the Royals have a team that is built to win.
Should the Royals find a way to get past the Orioles in the ALCS, fans in Kansas City that have been waiting for a winning team will have something to cheer about again at Kauffman Stadium. The venue originally opened in 1973 and has been the home of World Series action before. Fans in the area should look to get their tickets now before the Royals clinch, because if you don't, who knows if you will get the chance to see them play for the World Series live.
About CheapConcertTickets.me:
CheapConcertTickets.me delivers tickets to sold out concerts and events worldwide when no one else can, and they do so at discounted prices. As a member of TicketNetworkDirect, they can guarantee the delivery of Kansas City Royals World Series tickets along with NASCAR, NBA, NFL, and NHL tickets. With CheapConcertTickets.me customer service is a priority, for more information email support(at)cheapconcerttickets(dot)me.