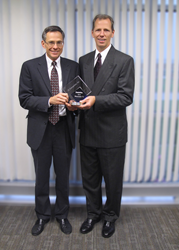 It's a great honor to be among those firms whose contributions are regarded as key to Wisconsin's economic growth and vitality
Hartland, WI (PRWEB) October 15, 2014
JX Enterprises was recently named #37 on the Deloitte Wisconsin 75 list. The annual ranking, also known as Wisconsin's Honor Roll, recognizes the state's largest privately and closely held companies for their contributions to the Wisconsin people and its economy.
JXE has been recognized 9 times since the award inception in 2003.
"It's a great honor to be among those firms whose contributions are regarded as key to Wisconsin's economic growth and vitality," said Eric jorgensen, president and CEO, of JX Enterprises. "We applaud each of the top 75 companies for their leadership and success."
To be eligible for the Wisconsin 75, a company must meet the following criteria:
Company must be headquartered in Wisconsin;
Must have majority ownership (50+ percent) by an individual, family or by an employee stock ownership plan;
Must have a minimum of $50 million in annual sales revenue;
Company cannot be a cooperative or venture capital-owned. Those specializing in accounting, tax, legal and consulting services are excluded.
"Deloitte" is recognized as a brand under which tens of thousands of professionals working for independent firms throughout the world collaborate to provide audit, consulting, financial advisory, risk management and tax services to select clients. For the complete Wisconsin 75 listing, visit http://bit.ly/1pUJWdh.
About JX Enterprises
JX Enterprises, was founded in 1970. Headquartered in Waukesha, Wis., the company operates 16 medium and heavy-duty truck dealerships throughout the midwest with locations in Appleton, Green Bay, Madison, Milwaukee, Waukesha, and Wausau, Wisconsin; Grand Rapids, Michigan; Bensenville, Bloomington, Bolingbrook, Champaign, Lansing, Rockford, and Wadsworth, Illinois; and Fort Wayne and Indianapolis, Indiana. The JX Truck Center location (Wausau, WI) provides Volvo trucks, service and parts in addition to Peterbilt offerings; and JX Hino - Chicago (Bolingbrook, Ill.) provides Hino trucks, service and parts. JX is known for their ability to assist customers by providing transportation solutions that maximize results and fit their long and short-term goals. The company offers a full array of financing, leasing, rental, parts and repair services. To learn more, visit http://www.jxe.com