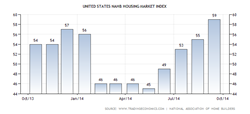 The big finale will be Housing Starts released Friday morning.
Chicago, IL (PRWEB) October 15, 2014
Lenders like Peoples Home Equity are waiting for a number of important housing data points to be released today, tomorrow, and Friday. These data point include weekly mortgage applications, Octobers NAHB Housing Market Index, and Housing Starts for September
This morning, weekly mortgage applications will be released. Last week applications increase 3.8%. According to TradingEconomics.com, the forecast is for a -0.74% decline this week. Mortgage applications tend to show a seasonal decline during the fall season, however on an adjusted basis anything can happen. Peoples Home Equity is off the opinion, better to keep expectations low and enjoy any surprises.
The NAHB Housing Market Index will be released Thursday morning. The index which is based on a monthly survey of home builders, offers to quantify sentiment in the housing market ranging from current sales of single-family homes, sales expectations for the next six months, and the traffic of prospective buyers. A value of 50 indicates that builders view conditions as good than poor. The index value has increased consecutively from an annual low value of 45 in May to 59 in September. TradingEconomics.com shows a forecast of 60 for October; however Peoples Home Equity will be content if sentiment remains unchanged in October.
The big finale will be Housing Starts released Friday morning. After a large -14.4% decline in housing starts for August; Peoples Home Equity estimates a slight rise for September. Based on September NAHB housing index value, one should not be surprised to see a 3%-5% rise in housing starts.
Overall, Peoples Home Equity feels positive toward the housing market. Even though the stock market is in correction, housing demand remains strong and prices are expected to move higher over the next 12 months. If thinking to purchase a property this winter at a historically low mortgage rate, consider contacting a Peoples Home Equity loan officer today at: 262-563-4026