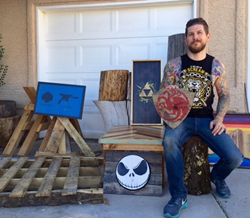 I've always been in love with the "nerdy" aspects of pop culture: Movies, video games, comics, sci-fi, things like that. So it felt pretty natural to integrate that into the art
Las Vegas, Nevada (PRWEB) October 15, 2014
Las Vegas isn't traditionally known for its culture outside of the casino industry. However, the art scene in Sin City has been gaining popularity the past few years thanks to the upgrade of downtown Las Vegas. According to various locals, it's not the same downtown it was 5 years ago. It hosts more cultural variety today, and has a much more interesting, inviting and safe feel to it. It was widely considered to be run down and dangerous a decade ago.
The downtown section of Las Vegas, known as the Arts District, has become a mecca for artists to show and sell their art during the city's popular First Friday Las Vegas event, which according to an October, 2nd Las Vegas Review Journal article, just turned 12 years old this October. "It's a perfect time and place to host art exhibits. There are so many varieties of art to see and a great mixture of cultured locals from all over the country as well as tourists" said Edwards.
Edwards makes affordable pop culture art, décor and casual furniture out of wood. Some of his inspirations come from his childhood, such as his various Star Wars themed pieces, which were among his first projects. "I wouldn't necessarily say I chose the theme of pop culture, I've always been in love with the "nerdy" aspects of pop culture: Movies, video games, comics, sci-fi, things like that. So it felt pretty natural to integrate that into the art" explains Edwards.
He also keeps up with the future of pop culture, including a few Game of Thrones inspired wooden clock pieces. "A lot more inspires me now that I'm really immersing myself in my projects. Obviously pop culture, but I love the simplicity in logos and minimalist art, so I'll find that everyday objects and things I see can inspire me too. Other woodworkers also inspire me to keep honing my skills" explains Edwards.
In what began as a part-time hobby only eight months ago, has quickly turned into a full time venture for Edwards. "It was a very casual hobby until around April when I was given an opportunity to actually show and sell my stuff" said Edwards. Among those opportunities was the Las Vegas First Friday event, which draws thousands of art fanatics each month. "I was initially a skeptic about what seemed like forced culture in a city that was relatively superficial, but First Friday and downtown has done a lot to change that. For me it's been incredible. Every month I talk to more people, sell more pieces, get more inspiration and continue to evolve how I see this as a business and hobby. I want to do that same thing, but on a bigger platform, which is why I created a website. I want more people to see images of the art and have the opportunity to purchase some as well" Edwards said.
Nerdwood Designs takes pride in the process of how the materials are gathered. There isn't a real budget, nor are trees being harmed. However, Edwards emphasizes there is a lot of work involved in obtaining just the right pieces. "Materials can range from simple lumber, to reclaimed wood from pallets and other projects, to raw logs found on old forest roads. I appreciate the clean cuts of lumber just as much as the rough, rustic feel of reclaimed wood" Edward describes.
For more information about Nerdwood Designs, or to view and purchase one of these unique pieces of pop culture art, visit http://www.nerdwooddesigns.com. The studio also welcomes and creates customized requests. Additional images can be found on the studio's Instagram page here.