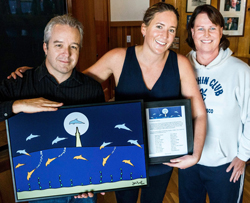 My art celebrates the idea that anything is possible, and I'm honored to help celebrate Kim's amazing achievement with my work. - John Kraft
San Francisco, CA (PRWEB) October 15, 2014
Kimberley Chambers is only the sixth person in history to conquer the Ocean's Seven, successfully swimming across seven different channels to complete the open water marathon swim challenge. Fighting jellyfish and cold water temperatures, she cleared the final hurdle last month by completing the 21-mile crossing of the North Channel from Ireland to Scotland in 13 hours and 6 minutes.
To celebrate this amazing achievement, members of San Francisco's Dolphin Club, North Bay Aquatics, South End Rowing Club and Nadadores Locos, who swim with Chambers in San Francisco Bay, presented her with Dolphin Detour by San Francisco artist John Kraft. Kraft's composition features dolphins leaping across San Francisco Bay, with one dolphin performing a grand jeté over San Francisco's iconic Transamerica Pyramid. This is only fitting, as Chambers, a native of New Zealand, in addition to being a world-class endurance swimmer, is also a classically trained ballerina.
Prior to the ceremony, Dolphin Club member Michelle Cherrick commented, "Kim is not only an elite athlete who has accomplished an incredible feat, but she is an inspiration to all of us who know her and have the pleasure of swimming with her. We selected John's painting to commemorate Kim's Ocean's Seven triumph because it captures the spirit of achieving one's goal."
While presenting Dolphin Detour to Chambers, Kraft shared, "My art celebrates the idea that anything is possible, and I'm honored to help celebrate Kim's amazing achievement with my work."
Following the presentation, a clearly moved Chambers addressed those gathered. "I am truly fortunate to be a part of such an incredibly supportive community who made it possible for me to achieve my dream. This gift is such a wonderful surprise. Thank you all!"
Learn more about the individuals and groups mentioned above via the links below:
Kimberley Chambers - http://kimswims.com/
John Kraft - http://www.johnkraft.com
The Dolphin Club - http://www.dolphinclub.org/
North Bay Aquatics - http://www.northbayaquatics.org/
South End Rowing Club: http://serc.com/
###