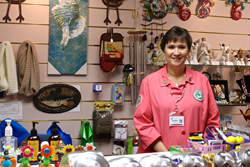 Tappahannock, Va. (PRWEB) October 19, 2014
When patients and their loved ones walk through the doors of the Riverside Tappahannock Hospital and turn the corner to face the Hummingbird Gift Shop, they see unique gift items, hand selected by dedicated hospital volunteers to sell there. There's unique home décor. Cooking supplies. Handbags. Nautical items.
What may not be so obvious, though, is the importance this small gift shop has on the hospital today and the health of the Tappahannock and Northern Neck community of the future.
Thanks to a team of volunteers, in 2013 the Hummingbird Gift Shop sold $50,000 worth of gift items. The proceeds from those sales were directly funneled into patient care initiatives in the hospital.
This year, those same volunteers have set out not only to meet their sales goals of last year, but to also surpass it, with the additional proceeds supporting the Riverside Tappahannock Hospital Capital Campaign, "Building a Better Place to Heal."
"It's true what they say about every dollar making a difference," said John Peterman, Vice President and Administrator of Riverside Tappahannock Hospital. "This gift shop is proof of that very concept. Members of the community can come in here looking for gifts they need, whether they have a loved one in the hospital or not, knowing that their purchase will directly support creating a better place to heal."
The Capital Campaign, which is just more than $100,000 shy of its $600,000 goal, set out to raise funds to transform the hospital's currently shared patient rooms to private spaces to heal. Riverside Health System will match, dollar for dollar, the community's investment, including hospital gift shop donations, to fund the $1.2 million dollar project.
Pledges for the campaign continue to come in from throughout the community, to include key area banks, businesses, individuals, families, hospital vendors, team members, volunteers, physicians, hospital board members and gift shop customers.
Research shows that private rooms better accommodate new medical technologies, decrease infection rates significantly and allow health-care professionals to more easily communicate patient information.
"As a physician, when I walk into a room to see a patient either in the emergency department or the hospital, having the privacy of a private room allows me to care for that patient in a much more intimate and personal manner," said Dr. James Dudley, who treats patients in Riverside Tappahannock Hospital's Emergency Department and personally contributed to the campaign.
Singles rooms also allow for the serenity necessary to promote the healing process and facilitate a speedy recovery and provide the privacy for family visitation.
"My father passed away at Riverside Tappahannock Hospital," said Debbie Scott, a volunteer at the gift shop. "The team here could not have been any better to him. It was such good, quality care. Because it's a small hospital, it really becomes like your family. I volunteer to help the hospital because they were so good to him, and we need this hospital here."
"What we try to do as a small hospital gift shop is to find unique items that keep people coming back," Scott said. "Our biggest supporters are hospital staff. We try to keep them in mind when new stuff comes in because without them, we couldn't survive."
Brenda Kent, the Gift Shop Coordinator, has hoped for the three years that she's volunteered at the gift shop that the community would start to turn to the gift shop when they needed something new, whether they knew it was supporting the hospital or not.
Based on the 2013 gift shop sales, they are starting to.
To ensure a strong finish for 2014, Kent said, the gift shop is pleased to announce it is planning for its holiday open house.
Each year, the Hummingbird Gift Shop features a special collection of Christmas items, as well as others items, to help bring customers into the shop, even if they have no reason to visit the hospital.
It's one of the biggest fundraisers.
This year the event will take place Nov. 13-15.
Stay tuned for additional details and promotions.
To learn more about making a gift to the Riverside Tappahannock Hospital's "Building a Better Place to Heal" Capital Campaign, call Scott Brown, Riverside Foundation Director of Advancement, at (804) 443-6203.
Riverside Tappahannock Hospital, an affiliate of the not for profit Riverside Health System, primarily serves the residents of the Tappahannock area, including Essex, King and Queen, and King William counties and the Northern Neck counties of Richmond, Westmoreland, Northumberland and Lancaster.
Learn more about the hospital services online - http://www.riversideonline.com/rth/.