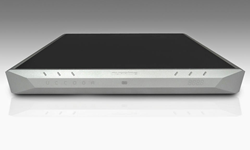 NuPrime aims to achieve yet greater heights of excellence and value in high-performance audio. ", Jason Lim, CEO
(PRWEB) October 29, 2014
NuPrime Audio, having taken over NuForce's high-end product line, offers several of a projected series of superbly engineered components: the IDA-16, an extreme-resolution integrated digital amplifier; the DAC-10H, a full-featured digital-to-analog converter and preamp capable of PCM 32bit/384kHz and DSD256 decoding with dual headphone outputs (6.2mm and XLR); and the ST-10, a well-priced Reference LE-class stereo amplifier with 200W X 2 (at 8 Ohm) power.
Under a licensing agreement with NuForce, existing NuForce high-end products, e.g., the Reference 20 mono amp and P-20 preamp, will continue to bear the NuForce badge. Beginning In 2014 new products will be identified as NuPrime. Customers requiring support for NuForce high-end products are asked to visit the NuPrime website.
NuPrime Audio's products are being distributed in Argentina, Denmark, Ecuador, France, Germany, Hong Kong, Italy, Russia, Singapore, Sweden, Switzerland and the USA. Inquiry for distribution in other territories are very welcome.