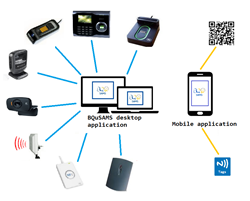 London, UK (PRWEB UK) 16 October 2014
BQuSAMS, a student attendance management system developed by BQu, is designed to provide education providers with solutions to manage student attendance and engagement, and at the same time, adhere to compliance with economic and policy requirements such as UKBA Tier 4 Compliance in the UK.
BQuSAMS has recently developed and enhanced its solution through offering a complete suite of data capturing solutions, ranging from biometric devices to barcode / QR code readers.
Education institutions have more than one requirement when it comes to attendance tracking, data capture, and reporting. Some classes are conducted in small groups or large groups, and at other times they are in-house or could include field visits.
BQuSAMS now can help education institutions to gather and manage data despite their location and classroom size, through the introduction of its new comprehensive solution.
BQuSAMS is now integrated with over twelve types of data capture methods, which are managed by two different application interfaces; through a mobile application or a desktop application. These applications are directly linked to a cloud database called the BQuSAMS Database. It enables administrators to monitor student attendance at any given time despite location, situation or task. For example, the Ethernet NFC solution can be used for in-classroom lectures and smartphones for field-based classes like physical training, or when students are on field trips.
Further details of the new comprehensive solution offered with BQuSAMS can be accessed from their website;
http://blog.bqutms.com/bqusams-contactless-smart-card-solutions/
The main feature of BQuSAMS is in the system's real-time reporting, which enables staff to easily identify students whose attendance and engagement is below expectation. They can then make effective intervention to work with the students concerned and provide appropriate support and encouragement to get them back on track.
Furthermore, BQuSAMS helps to synchronise all records to a single place, and assist staff to manage and analyze student attendance information at any time, and take action accordingly.
BQuSAMS applications are developed to be compatible with any existing student management systems using API, so the installation process is relatively quick and smooth while it is cost effective, rather than compiling a complete new system.
A further benefit of BQuSAMS is that it uses the latest technologies and application upgrading, updating, and the developers can fix issues even from a remote location. Even in the case of an emergency, developers are capable of providing immediate assistance.
About BQuTMS
BQuTMS offers a complete suite of time management tools to capture, manage and analyse data gathered on a day to day basis.
BQuSAMS is a product developed by BQu, a subsidiary of Peritempo (Pvt) Ltd based in the UK. Learn more about them and their offering from their website http://www.bqutms.com