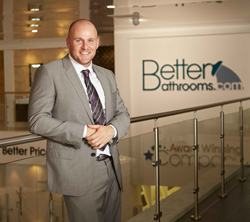 (PRWEB UK) 15 October 2014
Award Winning BetterBathrooms.com has continued with its growth strategy and is opening its largest distribution center yet to handle its southern customer base.
Colin Stevens, CEO BetterBathrooms states: "Our new 166,000 sqft high bay modern warehouse is going to add a whole new level to the customer service we offer. I'm very excited about the location as it now means we can offer our premium 2 man room of choice home delivery service up to 10 pm, 7 days a week. We will undoubtedly be the best in our industry at service; we will be the only bathroom retailer in the UK that has its own in-house transport network."
Another factor BetterBathrooms.com is really proud of is the job creation and promotions that will be available. Since 2007 Better Bathrooms has created over 200 jobs and plans to add another 200 jobs within the next 3 years. 80 new jobs have been allocated to Didcot, and Better Bathrooms are now recruiting for a variety of roles within its warehouse and logistics operation.
As well as B2C fulfillment, the southern operation will add huge benefit to our trade customers. Better Bathrooms has said it will hold approx. £10,000,000 worth of bathrooms and tiles, therefore offering same day collections and guaranteed delivery slots for all of its trade customers.
Better Bathrooms was founded by Colin Stevens. At just 21, the British entrepreneur began from his bedroom selling taps on eBay. After five very successful days of offering items at such a fantastic margin, it lead to Stevens' expansion into other bathroom fixtures and fittings, and in 2001 http://www.betterbathrooms.com was born, a domain that would soon become the brand.
In 2007, Better Bathrooms annual turnover stood at just over £1m and in the last financial year, the turnover was £32m, with a target of reaching £40m within the next 12 months. The company aims to double their growth over the next three to five years. Better Bathrooms and Colin Stevens have won 21 awards in the past 2 years including National Business Awards – Entrepreneur of the Year, The Sunday Times Virgin Profit Track 100 2014 and The Sunday Times Virgin Fast Track 100 2012. If you would look to work for an award winning company, there are several vacancies available, including:

Warehouse Manager
Goods In Administrators
Goods Out Administrator
Replen Drivers
Warehouse Pickers
Trade Counter Checkers
Drivers
Drivers Mates
Trade Counter Assistants
Trade Counter Managers and Assistant Managers
To apply for a job please see full descriptions at http://www.betterbathrooms.com/jobs/ and send your C.V. to jobs(at)betterbathrooms(dot)com putting the job title in the subject heading.
Better Bathrooms invests heavily into career development, sending staff members on training courses to develop their skills and progress further in their career. In addition, an excellent benefit package is available to all staff members, which includes a performance review, pay reviews, reward schemes and social events.