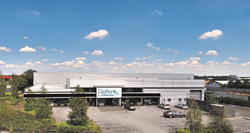 (PRWEB UK) 15 October 2014
Commercial property consultants Robert Pinkus & Co. LLP are pleased to report that award-winning Better Bathrooms, the largest independent bathroom and tiles retailer in the UK, are opening a new showroom in York on 27th October 2014.
As part of the company's progressive expansion plans, the new showroom at Stirling Road, Clifton Moor, York will be the company's first outlet in Yorkshire and the 6th showroom in the Better Bathrooms' portfolio, alongside successful stores in Wigan, Warrington, Manchester, Leicester and Slough, plus a trade counter in Leigh and http://www.betterbathrooms.com.
Better Bathrooms takes the detached 19,772 sq ft retail warehouse on a new 10 year lease from landlords Hamilton Ltd. Lawrence Hannah Property and Edgerley Simpson Howe LLP acted as joint agents for the landlord and Robert Pinkus & Co. acted on behalf of Better Bathrooms.
The York Showroom Manager Bill Cunningham said, "Our York store is based on Clifton Moor, with ample parking and easy access off the outer ring road. Our team of knowledgeable and enthusiastic staff will be happy to guide you through the stunning range of bathrooms and dedicated collection of tiles for the bathroom or home. We look forward to seeing you in our superb new store".
Area Manager for Better Bathrooms, Pete Thornton added, "The new showroom in York is an exciting development for Better Bathrooms. We pride ourselves on providing an exceptional buying experience for our customers, offering quality products at internet prices, whilst using the latest technology".
CEO and founder Colin Stevens said, "We have recruited a great team who are friendly, knowledgeable and from the local area. We are very excited about the store and the opportunity to be part of the Yorkshire community. The new showroom looks great and it is a fantastic addition to the Better Bathrooms' brand."
In 2007, Better Bathrooms' annual turnover stood at just over £1m and in the last financial year the turnover was £40m. The company aims to double their growth over the next three to five years and the York store will be a big part of this.
Better Bathrooms have had an exceptional 2 years, winning 21 awards, including the prestigious National Business Award and featured in the 2012 Sunday Times Fast Track 100 and 2014 Sunday Times Profit Track 100.
Commercial property consultants Robert Pinkus & Co. are Better Bathrooms' sole property agent for their new store acquisition drive and Joe Assalone, Partner at the firm said, "Better Bathrooms looked a various sites in the locality but this particular property came out on top for a number of reasons namely visibility, parking and accessibility for customers.
The success of the brand and the quality of the products offered by this retailer is the main facilitator behind the company's continued fast-tracked growth and we continue to search for properties across the UK that match what the York showroom has to offer.
The search for new retail sites continues with the well-established, well-funded company looking to secure properties from 15,000 to 20,000 sq ft over maximum two floors in highly visible, easily accessible, non-prime retail locations throughout the UK.
To submit premises for consideration or to find out more about Better Bathrooms' target locations, please contact retained agent Joe Assalone at Robert Pinkus & Co. on 01772 769000 or visit http://www.pinkus.co.uk/clients-betterbathrooms.asp
For more information about Better Bathrooms please go to http://www.betterbathrooms.com.
Better Bathrooms York opens on 27th October 2014.