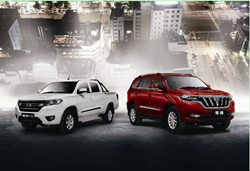 (PRWEB) October 15, 2014
Recently, Guangdong FODAY Automobile Co.,LTD has unveiled its new designs and launched a big promotion. According to the company's marketing specialist, it is very controversial that customers are concerned about the price of goods, or quality of goods. "Of course, all customers like high quality but cheap goods. This is why we strive to offer more cost-effective cars," he says.
True enough, a lot of manufacturers are competing prices to expand their market shares. However, low prices often mean poor quality.
As one of the leading suppliers in the global market, FODAY insists on offering cheap and quality products for people worldwide. Therefore, it has become one of the most important players in the industry. The company has greatly promoted the development of SUVs and Pickups. Taking advantage of its abundant resources, FODAY unveils 2 to 3 new models every year. It hopes to meet the growing demands in the market.
Guangdong FODAY Automobile Co.,LTD
http://www.fodayauto.com
FODAY Auto Wechat no: fodayauto
Email: fodayglobal(at)163(dot)com